Alles over paddo's
Paddo's (ook wel 'magic mushrooms' genoemd) zijn paddestoelen die de psychoactive stof psilocybine bevatten. Paddo's worden al sinds mensengeheugenis door de inheemse stammen in het Amazone gebied gebruikt om 'met de Goden te kunnen praten'. De meeste soorten paddos' zijn in te vinden in Zuid-Amerika, maar ook op alle andere werelddelen komen psilocybine paddestoelen in mindere of meerdere mate in de natuur voor. De bekendste paddo's zijn de Psilocybe cubensis ('de Mexicaanse') en de Panaeolus cyanescens ('de Hawaiiaanse')...
Lees hieronder alles over de teonanácatl, 'the divine mushroom':
---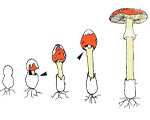 Het thuis kweken van paddo's is niet al te moeilijk. Je hebt er geen groene vingers voor nodig (wel schone!) en je hebt er weinig tot geen dure materialen voor nodig. Wel is het belangrijk dat je weet wat je doet. Een goede voorbereiding, schoon te werk gaan en geduld zijn de keyfactors bij het zelf kweken van magic mushrooms. Lees hier alles over het thuis kweken van paddo's.
---
Met onze paddo kweeksets is het mogelijk om binnen enkele weken 400-600 gram verse Psilocybe cubensis paddestoelen te kweken. Al het lastige werk is al gedaan, ze zijn simpelweg 'ready to grow'. Het enige wat je verder nodig hebt is wat water en een beetje geduld. Lees voordat je gaat beginnen wel even onze paddo kweekset handleiding goed door.
---
Effecten van paddo's
...
---
Psilocybine en andere actieve bestanddelen
...
---
Geschiedenis van de 'Teonanacatl'
...
---
gebruik van paddo's in de moderne tijd
...
---
Magic Truffels
...
---
Legale status van Magic Mushrooms
...
---
Onze paddo producten
...