Wat is Maca: Lepidium Meyenii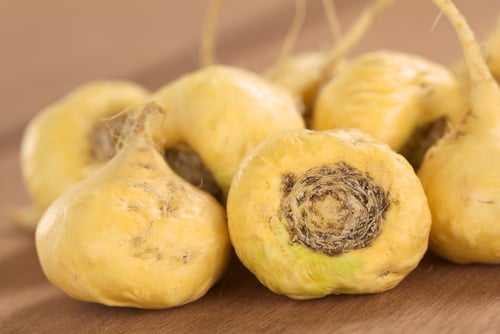 Maca (Lepidium Meyenii), ook bekend als Pepperweed en Peruaanse Ginseng, is een inheemse plant van het Andesgebergte, waar het al duizenden jaren van groot cultureel belang is. Het is een kruidachtige, tweejarige plant uit de kruisbloemigen familie. Deze familie bevat meer dan 3700 soorten, die over de hele wereld kunnen worden gevonden.
Maca groeit 3.800 - 4.800 meter boven de zeespiegel, in een smalle, hooggelegen zone in het Andesgebergte. Ze kan overleven in deze ruwe omgeving vanwege haar extreme tolerantie voor vorst.
De groeigewoonten, grootte en verhoudingen van maca zijn vergelijkbaar met die van een raap. De voornaamste groei van de plant gebeurt ondergronds, waar haar geprezen wortels zich ontwikkelen. Bovengronds, ontwikkelt Maca een grote hoeveelheid dunne, scheut-achtige bladeren die over de grond kruipen. Deze bladeren kunnen wel 20cm lang worden en zich ontwikkelen in een rozet, waarvan de buitenste bladeren worden vervangen door nieuwe vanuit het midden, zodra zij afsterven.
Vanwege de barre locatie van haar inheemse locatie, vertrouwt Maca vaak op zelfbestuiving om zich voort te planten. De centrale bloemtros produceert een paar gebroken witte bloemen die zich uiteindelijk om te zetten in fruit, met 2 zaden per stuk. Door de korte lichtperiode waar ze in de Andes aan wordt blootgesteld, kan de hele levenscyclus van maca een langere tijd in beslag nemen. Onder optimale omstandigheden kan Maca haar levenscyclus binnen een jaar afronden, waardoor sommigen menen of geloven dat zij geclassificeerd dient te worden als een eenjarige plant.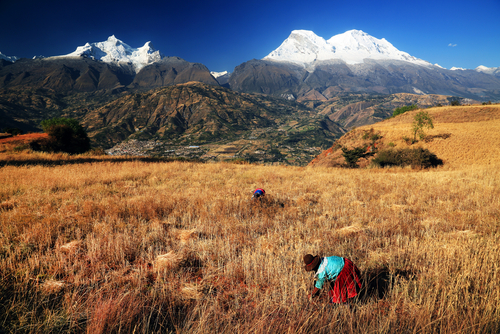 De wortel wordt geoogst voor haar actieve eigenschappen. Deze wortel heeft vaak een driehoekige vorm, maar dit kan van plant tot plant verschillen. De wortel kan ook diverse kleuren hebben, waaronder goud, crème, groen, zwart, rood of paars. Deze kleuren zijn te wijten aan verschillende fenotypes en zijn een goede indicatie van de effecten die ze kunnen hebben op het menselijk lichaam. Van crèmekleurige Maca wortels bijvoorbeeld, die enorm populair zijn in Peru, wordt gedacht dat ze veel zoeter zijn en dat ze groter worden; van donkere of zwarte Maca wortels wordt gedacht dat zij het beste zijn om de conditie en energie te verhogen; zij smaken echter wel bitter. Rode Maca wint aan populariteit, nu klinisch is aangetoond dat zij de grootte van de prostaat bij ratten deden afnemen.
De voordelen van Maca kunnen worden verkregen door het eten van zowel verse als gedroogde wortel. Gedroogd komt het meeste voor, omdat dit makkelijker te bewaren is en de distributie aan de wereldmarkt eenvoudiger maakt.
Lees meer op onze blog