Dosering en Bereiding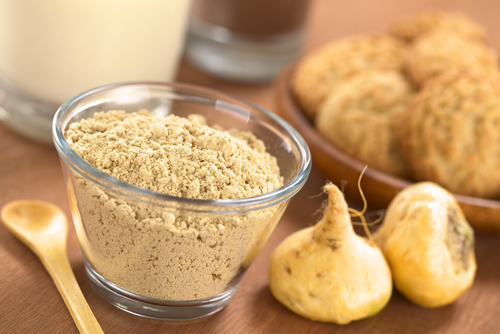 Maca wortel kan zowel vers als gedroogd worden gegeten. Gezegd wordt, dat de Peruaanse bevolking wel een pond verse Maca per dag eet! Je zult ontdekken dat de gedroogde wortel het meest voorkomt, omdat het wel 7 jaar kan worden bewaard en het eenvoudiger te vervoeren is.
De wortel is voor de meeste mensen het meest interessant, maar het is zeldzaam dit in rauwe vorm te krijgen. Over het algemeen wordt Maca verkocht als een poeder. Hiervan moet je porties van 450mg gebruiken, 3 maal per dag met voedsel of vloeistof. Het is ook mogelijk Maca in capsule vorm te kopen, waarvan de hoeveelheid al is afgemeten en verpakt in eenvoudig in te nemen pillen; maar dit maakt het wel lastiger om creatief te zijn met Maca, die kan worden verwerkt in vele recepten. De poeder heeft een milde, nootachtige smaak die een maaltijd echt kan verbeteren.
Een goed voorbeeld is het toevoegen van Maca poeder aan een chocolade smoothie of een toetje. De subtiele nootachtige smaak zal echt waarde toevoegen aan een recept.
Het wordt niet aangeraden het poeder puur te nemen omdat dit behoorlijk machtig kan zijn. Je kunt het mengen met heet of koud water, of het over voedsel strooien voor een eenvoudig te bereiden dosering; dit maak het veel makkelijker om in te nemen. Het wordt ook niet aangeraden het tussen maaltijden door in te nemen, omdat je lichaam het dan niet zo efficiënt opneemt.