Kanna Cultivatie
Zoals de meeste succulenten is kanna erg makkelijk om te kweken. Je kunt de plant kweken met behulp van zowel zaadjes als stekjes, in een pot of in de grond. Alles wat je nodig hebt is een lichtrijke en warme plek. Kanna is zeer intolerant tegenover vorst. Zorg er daarom voor, dat, mocht je haar buiten kweken, je de plant in de winter naar binnen haalt.
Potten
Kanna heeft potten nodig met grote drainagegaten. Potten van klei zijn het best, want doordat ze poreus zijn kan het water er makkelijk uit. In heet zomers weer blijven potten van klei ook koeler dan plastic potten.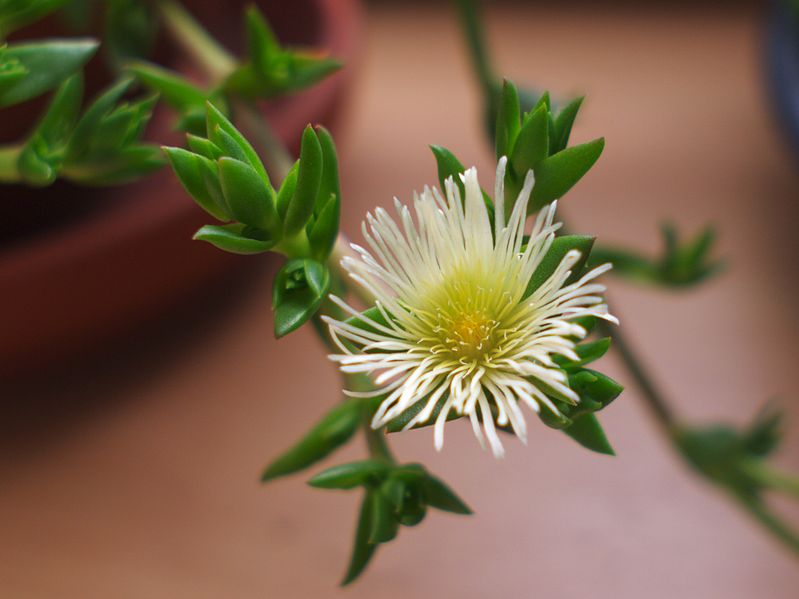 Kanna - Tommi Nummelin
Grond en kweekomstandigheden
Kanna gedijt het best op enigszins poreuze grond en onder even dorre en droge omstandigheden waaronder zulke planten in het wild groeien. Hierdoor kan overtollig water snel en efficiënt wegspoelen en gaan de kannaplanten niet rotten. De grond waar de kanna in staat moet tussen de verschillende bewateringsbeurten helemaal uit kunnen drogen, zodat de wortels goed kunnen luchten. Laat je niet verleiden om de kannaplanten te veel water te geven. Alleen als ze een beetje rimpelig worden, zou je moeten overwegen om ze wat meer water te geven, want dit betekent dat ze water verliezen.
Zoals al werd opgemerkt, gaan de planten door te veel water rotten; door te weinig water stagneert de groei. Je zou kannaplanten een matige hoeveelheid water moeten geven, totdat de scheuten en wortels genoeg tijd hebben gehad om zich goed te ontwikkelen. Als de plant eenmaal opgegroeid is, heeft hij gedurende zijn 9 maanden van inactiviteit weinig verzorging nodig. Als de plant gaat bloeien of nieuwe scheuten laat groeien, weet je dat je kanna weer actief is geworden. Je kunt ook overwegen om tijdens deze perioden vloeibare plantenvoeding te gebruiken om de groei te bevorderen.
Zoals gezegd is kanna niet erg goed bestand tegen vorst, dus zorg ervoor dat ze daar nooit onder hoeft te lijden. Over het algemeen kun je zeggen dat kanna, om echt goed te gedijen, eigenlijk niet bij een temperatuur lager dan 16 graden Celsius gehouden zou mogen worden. Je kunt dus overwegen om haar in een kas te houden of binnen op een tafel waar ze veel licht vangt.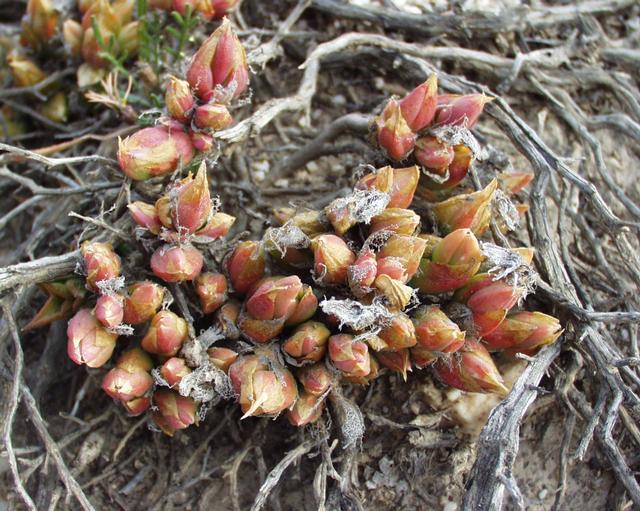 Sceletium tortuosum - H. Brisse
Zaadjes
Kannazaadjes zijn niet lang houdbaar, daarom moet je de zaadjes van je kannaplant direct planten, ongeacht het jaargetijde. Gebruik gewone potgrond en plaats de pot(ten) op een warme, goed verlichte, vorstvrije plek – bijvoorbeeld een kas. Houd de grond altijd vochtig, totdat de plant begint te groeien.
Insecten en ziekten
Kanna kan doelwit zijn van de gebruikelijke insecten, zoals slakken, spintmijten en bladluizen. Als je buiten kweekt, zul je veel vaker problemen krijgen met deze insecten. Je kunt met slakkenkorrels de slakken te lijf gaan die het op de bladeren van je kannaplanten voorzien hebben. Bladluizen en spintmijten, die de plant droogzuigen, kun je bestrijden met insecticidezeep.
De meest voorkomende ziekte waar je plant door getroffen kan worden is het kannavirus. Dit uit zich in bleke vlekken en strepen op de bladeren van de kannaplant. Hier is geen genezing voor en je zult dus de plant moeten verwijderen en vernietigen om verspreiding tegen te gaan.