Veiligheid en risico's
De consumptie van Syrische wijnruit (Peganum Harmala) kan duizeligheid, overgeven, misselijkheid, lichamelijke rillingen, oorsuizing en een langzame of versnelde hartslag veroorzaken.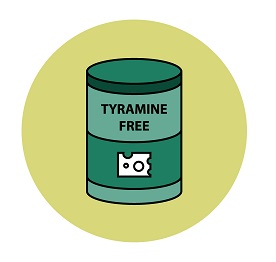 De harmala alkaloïden in Syrische wijnruit fungeren als MAO-remmers; dit betekent dat het consumeren van tyramine bevattend voedsel, 24 uur voor en na het nemen van Syrische wijnruit, kan leiden tot een hypertensie crisis. Zorg ervoor dat je het MAOI-dieet volgt.
Syrische wijnruit kan ook fungeren als een serotonine heropname remmer (SSRI) en moet niet worden genomen in combinatie met andere SSRI's of andere middelen die er slecht op reageren.
Andere bijwerkingen zijn: droge mond, lage bloeddruk, milde hoofdpijn, loomheid, moeite met slapen, vertroebelde visie, verminderd seksueel vermogen, vergrote eetlust en een verminderde tolerantie voor alcohol.
Opgemerkt moet worden, dat Syrische wijnruit, in combinatie met bepaalde diëten en medicatie, hoge bloeddruk kan veroorzaken. Vermijd het gebruik als je hieraan lijdt.
Syrische wijnruit moet niet worden gebruikt als je zwanger bent, borstvoeding geeft of lijdt aan een reeds bestaande aandoening.