De heilige Blauwe Lelie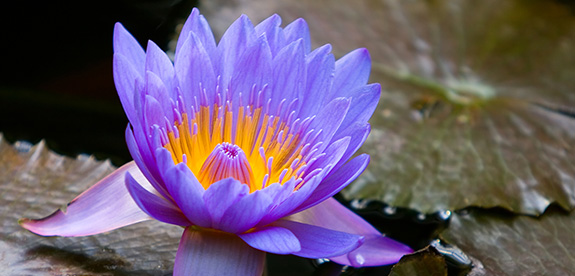 De Blauwe Lelie (Nymphaea caerulea) is een verbluffend mooie, psychoactieve plant die al duizenden jaren wordt gebruikt als afrodisiacum, mild psychedelisch middel en middel om bij te ontspannen. De plant wordt vaak verward met de Heilige Lotus (Nelumbo nucifera), hoewel ze beiden uit verschillende werelddelen komen.
Van de Blauwe Lelie wordt gedacht dat ze haar oorsprong vindt in Egypte en andere delen van Noord-Amerika, waar ze gevonden kan worden langs de rivier de Nijl. Sindsdien heeft ze zich verspreid en kan nu worden gevonden in het wild in het Indiase subcontinent en delen van Azië, zoals Thailand.
Gedacht wordt dat de plant een centrale rol speelde in de cultuur van de oude Egyptenaren. De Blauwe Lelie staat afgebeeld op vele, bekende muurschilderingen en is zelfs gevonden in de tombe van Toetanchamon. De psychoactieve effecten van de plant suggereren religieus gebruik en inderdaad kan hier ook bewijs van worden gevonden. Maar de lelie staat ook vaak afgebeeld op flessen wijn en dit wekt de indruk dat de Egyptenaren een wijnbrouwsel maakten van de Blauwe Lelie. Haar lustopwekkende en euforische kwaliteiten passen zeker goed bij alcohol.
De verwarring rond Blauwe Lelie komt door verkopers die de namen hebben verward, of het woord lotus gebruikten in plaats van Lelie omdat dat beter klinkt. De planten zien er in feite duidelijk anders uit, maar ze delen wel sommige actieve chemische bestanddelen, zoals nuciferine. De Blauwe Lelie is een waterlelie die typisch blauwe bloemblaadjes ontwikkelt met een heldergeel centrum. Maar er zijn ook variaties met witte, paarse, violet of roze blaadjes. De blaadjes hebben de vorm van een dolk en de bloem heeft een diameter van ongeveer 10-15 cm. Ze ontwikkelt brede, ronde bladeren die gewoonlijk aan de oppervlakte drijven; deze bladeren zijn ongeveer 25-40cm en hebben een inkeping aan de bladsteel.
Er zijn vele verslagen te vinden in de literatuur, geschreven door personen die onbekend zijn met de ware aard van de plant, waarin staat dat de plant 'smorgens uit het water oprijst om te bloeien en in de nacht weer onder water verdwijnt. Dit is een veelvoorkomende misvatting. Zodra de Blauwe Lelie voor het eerst bloeit, rijst ze naar de oppervlakte (rond 9 uur in de ochtend) om halverwege de middag (rond 15.00 uur) weer te sluiten. Als de lelie eenmaal aan de oppervlakte drijft, gaat ze niet meer onder.