Overzicht: Passiflora incarnata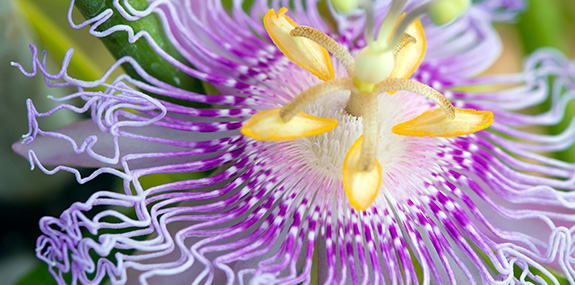 Passiebloem, of Passiflora incarnata in het Latijn, heeft haar naam te danken aan het Christendom, waar ze in verband is gebracht met de kruisiging van Jezus. De passiebloem is een groenblijvende, klimplant of struik die al eeuwen wordt gebruikt voor medicinale en entheogene doeleinden.
De passiebloem vindt haar oorsprong in de tropische regenwouden van Centraal- en Zuid-Amerika, hoewel sommige soorten van de passiebloem inheems zijn aan de zuidoostelijke delen van Noord-Amerika en het Caribisch gebied. Tijdens de periode van de Nieuwe Wereld, brachten botanisten, op avontuur door Amerika, de Passiebloem mee naar Europa. Als een gevolg hiervan, kunnen vele soorten ook in het wild worden gevonden in warmere gebieden in Europa, zoals Spanje en Italië.
Het meest opvallende deel van de plant is de unieke, prachtige bloem die ze produceert. Hoewel er variaties zijn onder de soorten, zijn ze allemaal opvallend en ontzettend trippy in hun verschijning, met complexe kleurencombinaties in rood, paars, blauw en geel. De bloemen zijn vrij uniek van structuur, en hebben vaak grote bijen, vleermuizen of kolibries nodig voor verstuiving en voortplanting. De zwaardkolibrie is samen met bepaalde passiebloemen geëvolueerd en kreeg een extreem lange snavel om de nectar te bereiken.
Hoewel de bloem het meest opvallende kenmerk is, worden de grote groene bladeren en wortels van de Passiebloem gebruikt vanwege hun psychoactieve en medicinale eigenschappen.