Zamnesia's Cannabis Kweekkalender Voor Buiten In Noord-Europese Regio's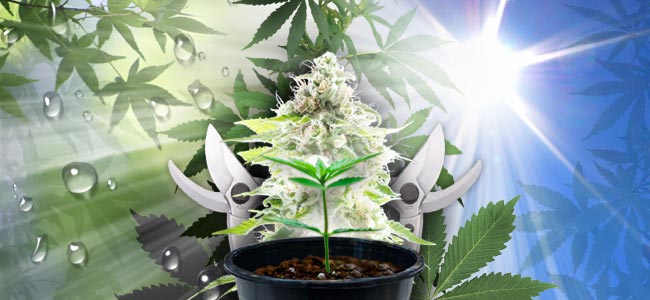 Elke buitenkweker van cannabis is afhankelijk van klimaatgegevens en weersvoorspellingen om een teelt te plannen, van zaad tot oogst. Het komende kweekseizoen gaan de wietboeren in Nederland en omliggende landen de uitdaging weer aan om te kweken in een oceanisch klimaat. Wij hebben daarvoor deze kweekkalender samengesteld. Ben je een Noord-Europese cannabiskweker? Dan is dit een zeer handig stappenplan.
FEBRUARI
• Dagduur: 9,05 - 10,47 uren • Gemiddelde temperatuur: 2,5 °C
Februari is veel te koud en donker om je naar buiten te haasten en te beginnen met het zaaien van zaden in de aarde. De temperaturen zitten overdag dichtbij het vriespunt en zakken 's nachts onder nul. De online klimaatkaarten geven aan dat je ongeveer 10 uur zonlicht kunt verwachten in deze maand. In werkelijkheid zie je echter niet veel zonneschijn door de bewolkte lucht. Ook bestaat er het risico op sneeuwval. Dit is de maand om de genetica van cannabiszaden en weersvoorspellingen te onderzoeken en materialen in te slaan. De meeste essentiële zaken, zoals aarde en voedingsstoffen, kun je online vinden. Houd er wel rekening mee dat het een aantal weken kan duren voordat alle bestellingen geleverd zijn.
MAART
• Dagduur: 10,51 - 12,52 uren • Gemiddelde temperatuur: 4,7 °C
Nog steeds te koud buiten. Waarschijnlijk ook vrij bewolkt op de meeste dagen. Maar je kunt als een pro de kweek binnen op gang brengen. Inmiddels zou je in het bezit moeten zijn van alle benodigde materialen voor buitenkweek. Met een minimale investering kun je een simpele CFL lamp en reflector verkrijgen om binnen met de zaailingen te starten. Of je nu kweekt vanuit zaad of met stekken van een goede bron, het helpt de planten wortel te laten schieten voordat je ze buiten plaatst.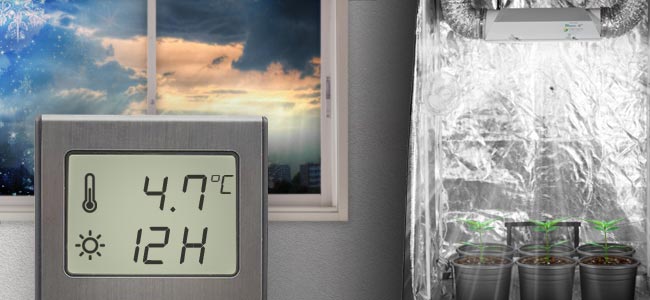 APRIL
• Dagduur: 12,56 - 14,48 uren • Gemiddelde temperatuur: 8,2 °C
Halverwege de maand, als het dagelijkse zonlicht toeneemt tot zo'n 14 uur, kun je beginnen met het buiten zetten van de planten in 10-20l potten. De temperaturen komen in het beste geval maar enkele graden boven de 10 uit. Dus alleen de sterke exemplaren overleven het zo vroeg buiten. Robuuste autobloeiende soorten zijn absoluut de beste optie. Zo zijn Blue Cheese Automatic van RQS en Early Skunk van Sweet Seeds vlugge bloeiers. Deze zijn bovendien bestand tegen koudere weersomstandigheden.
Taaie fotoperiodieke hybrides als Durban Poison van Sensi Seeds of White Critical Express van Kalashnikov Seeds kunnen in deze maand voldoende zonlicht krijgen voor een krachtige vegetatieve groei. Toch moet je laatbloeiende sativa's vermijden. Het kweekseizoen is hiervoor gewoonweg niet lang genoeg in de noordelijke regio's. De old school Holland's Hope en Early Girl presteren goed in een kas. Maar als je hoogwaardige wiet wilt, moet je iets geduldiger zijn.
MEI
• Dagduur: 14,52 - 16,20 uren • Gemiddelde temperatuur: 12,3 °C
Puristen kunnen zaden ontkiemen en hierbij op de vensterbank starten. Bereikt de dagelijkse hoeveelheid zonlicht de 15 uur en is er sprake van een consistente temperatuur van zo'n 15 °C? Dan is het eindelijk de juiste tijd voor de meesten om buiten te kweken. Snelbloeiende soorten zijn nog altijd de beste keuze. Zo zijn Classic Skunk en Northern Lights van Zamnesia Seeds goede keuzes. Je kunt ook een krachtige super autoflowering soort kweken. Denk aan Royal Gorilla Automatic van RQS of Devil Cream Auto van Sweet Seeds.
Ben je echter binnenshuis begonnen, dan is mei de maand om het binnen af te bouwen en de stap naar buiten te maken. Verpot je planten naar grote 10-20l bakken waarin ze kunnen volgroeien. Gebruik je kunstlicht ter aanvulling op de uren van natuurlijk zonlicht. Door potten te gebruiken, kun je de planten naar binnen en buiten verplaatsen. Tegen het eind van de maand zijn ze klaar om permanent buiten te groeien.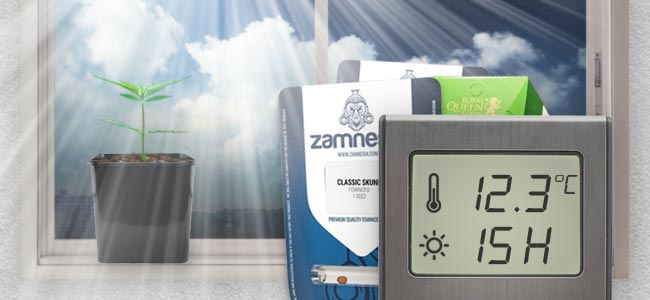 JUNI
• Dagduur: 16,22 - 16,38 uren • Gemiddelde temperatuur: 15,2 °C
Met een beetje geluk zitten de temperaturen tegen de 20 °C aan. En als het meezit, bereikt het zonlicht zijn piek van 16 uur en 38 minuten rond de zomerzonnewende op de 21ste. Auto's die zijn ontkiemd in maart/april zijn in deze maand oogstrijp. Ervan uitgaande dat ze beschermd zijn tegen regen, zijn de toppen van goede kwaliteit en kun je een fatsoenlijke oogst verwachten. Fotoperiodieke soorten groeien op hun gemak door. Ze hebben daarbij nog genoeg tijd om tot een groot formaat uit te groeien en royale opbrengsten te leveren.
JULI
• Dagduur: 16,37 - 15,29 uren • Gemiddelde temperatuur: 16,9 °C
Auto's die onder de zon zijn gekweekt en in mei zijn geplant, zijn deze maand klaar voor de oogst. Je zou zelfs je tweede teelt kunnen oogsten als je je timing op orde hebt en de juiste genetica hebt gekozen. De meeste fotoperiodieke soorten bevinden zich nog in de vegetatieve fase. Voor deze planten kan dit het moment zijn om wat te snoeien en training te verrichten als ze in bomen beginnen te veranderen. Temperaturen van iets boven de 20 °C en 15+ uren aan zonlicht zijn geweldige omstandigheden voor het kweken van cannabis.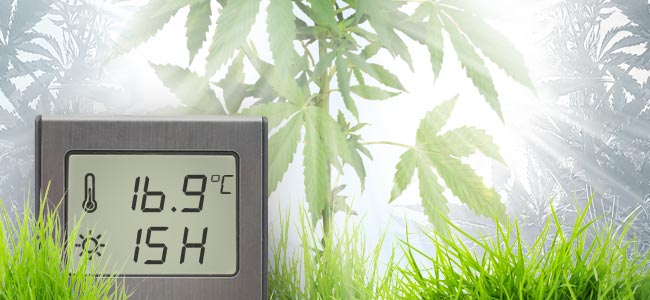 AUGUSTUS
• Dagduur: 15,26 - 13,37 uren • Gemiddelde temperatuur: 16,7 °C
Fotoperiodieke soorten gaan deze maand langzaamaan over in de bloeifase. En als je een late start hebt gemaakt met auto's, geen paniek; je hebt nog tijd om ze deze maand te laten volgroeien. Tegen het eind van augustus zit je weer op 13,5 uur zonlicht per dag. Dit is geen perfecte 12-12 licht-donkercyclus. Dat is dan ook de reden dat fotoperiodieke soorten buiten veel langer nodig hebben om te bloeien. Heb je een kas? Dan kun je deze afdekken met lichtdicht zeil om het aantal uren van natuurlijk licht te beperken en de bloei te versnellen.
SEPTEMBER
• Dagduur: 13,34 - 11,39 uren • Gemiddelde temperatuur: 14,2 °C
Mocht je dat nog niet gedaan hebben, dan is dit een goed moment om een simpel afdak voor cannabisplanten in de middellate bloei te bouwen. Zware regenval is niet ongebruikelijk voor september. Het dagelijkse zonlicht neemt daarbij binnen 30 dagen af van 13 uur en 34 minuten tot 11 uur en 39 minuten. Wees alert op bedreigingen voor de toppen. Een hoge luchtvochtigheid en dalende temperaturen naar onder de 10 °C zijn een recept voor toprot. Je kunt beter wat te vroeg oogsten dan de plant verliezen. Fotoperiodieke soorten moeten tegen het eind van de maand geoogst worden. September kan voor autoflowering planten een derde oogstmaand zijn. Auto's die in juni/juli zijn ontkiemd zijn op dit moment zeker klaar.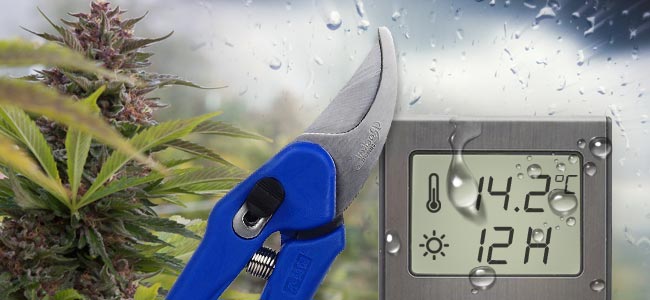 OKTOBER
• Dagduur: 11,35 - 9,38 uren • Gemiddelde temperatuur: 10 °C
Het is te hopen dat de finish in zicht is, als je nog steeds aan het kweken bent zo laat in het jaar. De temperaturen zitten op hun best rond de 10 °C en het zonlicht neemt snel af. Als het Halloween is, is het aantal dagelijkse zonlichturen zelfs gedaald tot een enkel cijfer. Sla aan het knippen en oogst zodra je kunt. De winter is onderweg! November, december en januari zijn de maanden om te overwinteren met een vette stash.