Elektriciteit En Wiet Kweken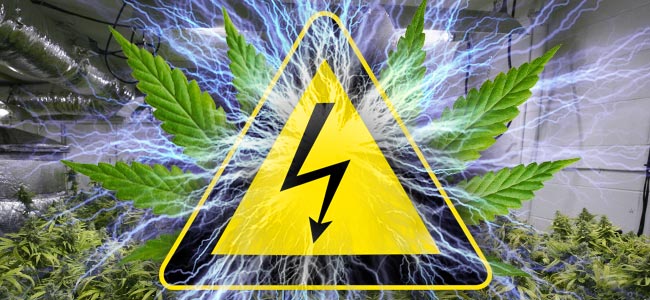 Tips Voor Het Vermijden Van Electriciteitsproblemen Bij Het Kweken
Tip #1: Kijk eerst even in de meterkast hoeveel Ampère je tot je beschikking hebt, meestal ongeveer 25 en hoeveel je moet gebruiken. Veel mensen gaan hier al de mist mee in. Ze hebben niet berekend hoeveel ze gaan gebruiken, zelfs als ze weten hoeveel er door de hoofdzekering komt.
De voorschakelapparatuur van je lamp gebruiken 75 Watt, dus voeg deze toe aan je 400 Watt.     
Een 200 Watt ventilator gebruikt 1 Ampère, maar je moet 3 ampère ervoor reserveren.
Een afzuigkap gebruikt 1 Ampère per 1000 kubieke meter, een zware afzuiger gebruikt ongeveer 800 Watt.
Een dompelpomp gebruikt 400 Watt.
Houd in gedachten wat het verbruik van je huishoudelijke apparaten is. Als je nog niet hebt berekend hoeveel energie je gebruikt, werk een blik op je meterkast om te zien of je het berekenen kunt.
Tip #2: Ga niet zelf rommelen met de meterkast, als er iets veranderd moet worden, moet je altijd een gecertificeerde professional inschakelen. Haal geen stroom rechtstreeks uit de meterkast, want als er iets mis gaat zal het energiebedrijf de boel uitschakelen en als je echt pech hebt, kan je de hele wijk zonder stroom zetten.
Tip #3: Betaal je energierekening; ga niet illegaal aftappen. Dit kan je een zware boete opleveren.
Tip #4: Kijk of er een stroomonderbreker in de meterkast aanwezig is. In sommige nieuwe gebouwen zijn ze soms afwezig. Als je er geen een hebt, zorg dat je er een laat installeren. De stroomonderbreker meet het verschil tussen de in-en uitgaande stroom. Als er meer in gaat dan uit, wordt de schakelaar geactiveerd voordat er iets vlam kan vatten.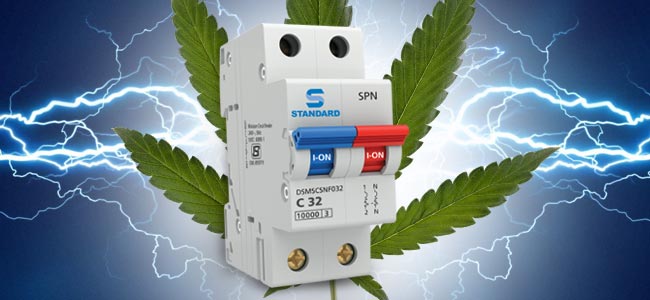 Tip #5: Voorkom ellende en installeer een zekeringkast. Dit zorgt ervoor dat de gebruikte stroom wordt verdeeld over de verschillende groepen in je meterkast. Zekeringkasten zijn verzekerd en gebouwd om aan de behoeften van de klant te voldoen. Een zekeringkast wordt aanbevolen zodra je je eerste lamp gebruikt. Helaas beginnen ongeveer 70% van de mensen aan een zekeringkast als er iets mis is gegaan. En als je er eenmaal een hebt gekocht, dan moet je niet de stekker van de zekeringkast in een stopcontact steken, maar deze rechtstreeks aansluiten op de meterkast. Sluit je aardingsdraad aan, anders zal de stroomonderbreker niet werken.
Tip #6: Een veel voorkomend probleem met lampen is dat ze zeer heet worden. Je kunt er letterlijk een ei op bakken. Dit is niet de primaire functie van een lamp, je gebruikt een onnodig grote hoeveelheid stroom en je verliest licht (lumen). Er zijn zogenaamde ET lampen op de markt, die wel meer kosten, maar minder warmte genereren. Het is juist de hitte van lampen die zoveel problemen veroorzaakt. Kijk altijd of de lamp gecertificeerd is en als dat niet het geval is, vraag technische ondersteuning bij je plaatselijke growshop om iemand er even naar te laten kijken.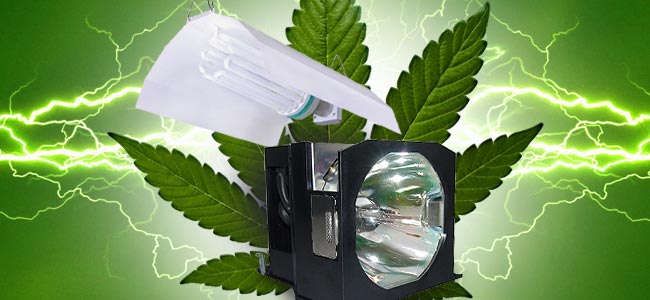 Tip #7: Gebruik hittebestendig kabels naar de kappen toe. Dus niet dat goedkope witte of oranje koord, want na 2-3 oogsten begint de draad af te brokkelen. Aangezien de inrichting voortdurend warm wordt om vervolgens af te koelen, worden scheuren gevormd en als de lamp beweegt, kunnen ze geheel breken met als resultaat dat de kap wordt geëlektrificeerd.
Tip #8: Een timer is niet gemaakt om rechtstreeks worden aangesloten op een lamp. De timer kan verbranden omdat de dunne koperen contactpunten smelten. Je moet een relais (een elektromechanische schakelaar) ertussen plaatsen. Die heeft dikke koperplaten die niet zullen smelten. De timer voorziet directe stroom naar de relais en dat is het enige dat het doet. Het relais wordt ingeschakeld, een elektromagneet start, het relais gaat aan en op dat moment bereikt de stroom de dikke koperen platen en kan er niets mis gaan.
Mensen werken vaak met een timer om de lampen en de verwarming niet synchroon te laten lopen, maar timers zijn niet altijd betrouwbaar of goed geïnstalleerd. Dan kan je een situatie krijgen waarin de verwarming aan staat en de lampen nog steeds branden, met als gevolg dat de zekering springt.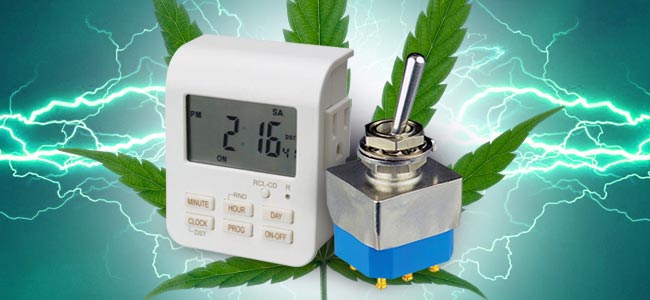 Tip #9: We hebben al gesproken over de bekabeling toen we het over de lampen hadden. Maar wist je dat je al fouten kon maken, zelfs bij het vervangen van een stekker? Als je de koper draadjes te dicht bij elkaar in de stekker installeert, zullen de helft van de draden afbreken. Niet alle geleverde stroom kan erdoor, met als gevolg dat de stekker te heet wordt en zelfs kan smelten. Dit is heel simpel te voorkomen door het aanbrengen van kabelschoentjes, maar dit kost je een paar eurocenten. Let ook op dat je de buitenste draad goed in de daarvoor bestemde mantel past, anders kun je de stekker er per ongeluk uit trekken.
Tip #10: Zorg ervoor dat je elektrische kabels altijd boven het hoofd hangt, netjes vastgemaakt, en leg ze zeker niet ze op de grond! Werk niet met 86 verlengkabels, je bent beter af met een stukje draad. Een PVC elektro-kabel kan verkruimelen als het voortdurend warm en koud wordt. Je kunt beter een siliconen kabel gebruiken. Dit is hittebestendig en je kunt er met een vrachtwagen over rijden zonder het te beschadigen. Vervang ook de stekkers op de lampen ten minste elke twee jaar te vervangen, alles ontdaan en opnieuw bedraad. En we kunnen het niet vaak genoeg zeggen: werk altijd met geaarde apparaten.
Tip #11: De goedkopere draaibare ventilatoren kunnen vastlopen na slechts twee of drie oogsten. Ze worden gesmeerd met olie en door de warmte lekt de olie weg. Zet hem aan tussen twee oogsten en er is een kans deze het begeeft. Ook hier geldt dus: vermijd goedkope spullen. Er zijn goede ventilatoren te koop die 100 euro kosten in plaats van 30 euro, maar ze hebben wel een levenslange garantie.