VerzendIng
De verzending is belangrijk voor ons. We zoeken altijd naar nieuwe manieren om je bestelling zo snel en discreet mogelijk bij je af te leveren. We streven ernaar om je bestelling op tijd te bezorgen en we begrijpen dat privacy uiterst belangrijk voor jou is.
Om je de best mogelijke service te bieden, zijn er echter wel een aantal landen waar we niets of alleen bepaalde producten naartoe sturen. Om te weten welke producten we naar jouw land sturen, zie onderstaande informatie.
Verzendkosten & levertijd
Al onze pakketten worden verstuurd met "Track & Trace' waarmee je online je bestelling kunt volgen.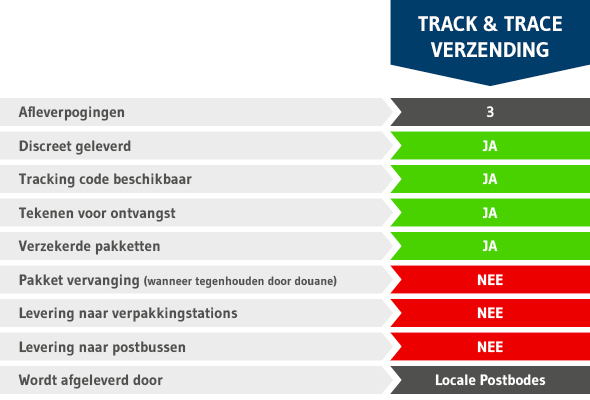 Verzenden jullie naar mijn land? 
Om te weten of we producten naar jouw land kunnen sturen en welke dat dan zijn, zie onderstaande tabel. 
Wij proberen zo weinig mogelijk verzendkosten in rekening te brengen. Daarnaast is verzending voor alle bestellingen binnen Nederland gratis en in België van € 150,- of meer altijd gratis!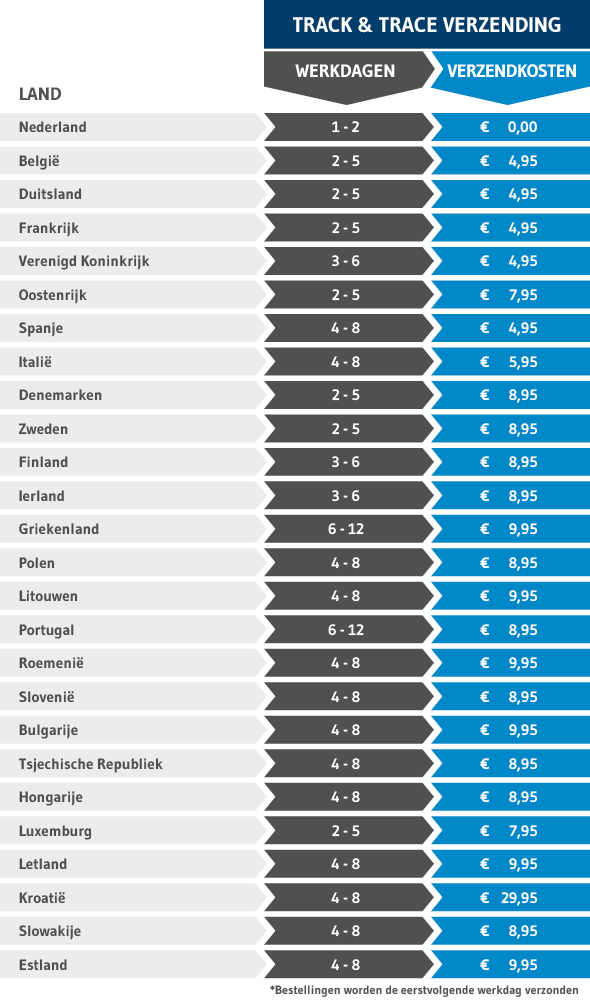 * Bovengenoemde lever- en verzendtijden zijn indicatief en alleen ter informatie. Bij drukke periodes (o.a. vakanties, slecht weer en nationale feestdagen) kunnen bestellingen vertraging oplopen.

Discrete verzending
We begrijpen vollledig waarom je cannabis en psychedelisch gerelateerde producten zou willen bestellen. We begrijpen ook waarom je dit eventueel voor jezelf zou willen houden.
Bij Zamnesia hoef je je daar geen zorgen over te maken. Alleen jij zal weten wat de inhoud van je bestelling is. Alle pakketjes die bij ons de deur uitgaan zijn discreet verpakt en zien eruit zoals de pakketjes op de foto hieronder. Op de buitenkant staat alleen je naam, adres en ons retouradres. Uiteraard zal de naam Zamnesia niet gebruikt worden als afzender.
Lees meer over onze Discrete Verzending.
DISCLAIMER:
 1. We streven ernaar om je bestelling op tijd te bezorgen, de klant en/of ontvangers zijn verantwoordelijk voor het tijdens de koop verstrekken van het volledige en juiste bezorgadres.
2. Zamnesia is niet verantwoordelijk voor schade geleden door de klant of ontvanger als gevolg van vermissing van producten en/of de verzendkosten van de producten of het vervangen van deze producten of op welke wijze dan ook.
3. In het geval dat je een defect of beschadigd product ontvangt, neem dan contact met ons op via telefoon of e-mail. Doe dit binnen zeven dagen na ontvangst van je bestelling, bij voorkeur met een foto van het pakket en de inhoud. Stuur alsjeblieft geen producten terug zonder voorafgaande toestemming.
Alleen wanneer de producten veilig door ons zijn ontvangen en geïnspecteerd, zal een terugbetaling worden gedaan. Originele verzendkosten en invoerrechten worden niet terugbetaald. Hetzelfde geldt voor andere kosten voor het retourneren en het verzekeren van producten, tenzij anders is overeengekomen.
4. Zoals vermeld in onze Algemene Voorwaarden, is de aansprakelijkheid overgedragen aan de klanten/ontvanger zodra een bestelling ons magazijn verlaat. Mocht je pakket gestopt worden door de douane vanwege de inhoud, dan kunnen we niet aansprakelijk worden gesteld.
---

---