Ontdek hoe je de Zamnesia Magic Truffel Grow Kit moet gebruiken, zodat je zelf thuis een psychedelische oogst kan produceren.
Het thuis kweken van je eigen magic truffels kan een lonende ervaring zijn en daarnaast is het enorm eenvoudig! Elke Zamnesia Truffel Grow Kit komt met drie verschillende packs: Een Mexicana pack, een Tampanensis pack en een Galindoi pack, waardoor kwekers kunnen genieten van verschillende truffel soorten. Het kweken van truffels met de Zamnesia kit is niet alleen gemakkelijk, het is ook nog snel. De truffels zijn 12 tot 20 weken na ontvangst van de kit klaar voor de oogst.
Om snel van je eigen thuis-gekweekte magic truffels te kunnen genieten, volg je deze simpele stappen.
Belangrijke opmerking: Let op dat je dit op tijd doet. Oogst je namelijk te vroeg, dan is de opbrengst minder; doe je het te laat, dan is de kwaliteit ondermaats.
---
 

Stap 1

De ideale temperatuur om truffels te kweken, is 22-23°C (kamertemperatuur). De temperatuur moet nooit hoger stijgen dan 27°C.

Probeer schadelijke temperatuurschommelingen te vermijden.
---
 

Stap 2

Truffels kunnen worden gekweekt in lichte of donkere ruimten, maar jouw gekozen plek moet wel uit de buurt van direct zonlicht zijn.
---
 

Stap 3

Zorg dat het filter niet bedekt is zodat de kit kan ademen. Verwijder het filter of de deksel nooit van de kit om besmetting tijdens de groei te voorkomen.


---
 

Stap 4

Open je kit alleen als je klaar bent voor de oogst en zorg er dan voor dat je je gehele hit in een keer oogst.

De truffels zijn 12 tot 20 weken na ontvangst van de kit klaar voor de oogst.
---
 

Stap 5

Borstel je sclerotia of was ze om ze schoon te maken. Droog ze af en bewaar ze een paar dagen in je koelkast.
---
 

Stap 6

Optioneel: We raden ten zeerste aan dat je het kweekproces onmiddellijk na het ontvangen van je kit start. Als je je kit MOET bewaren, kan je deze in de koelkast zetten. Bij een temperatuur van 3-5°C kan de kit ongeveer 2 tot 3 weken worden bewaard.
---
Onze Mexicana vormt meestal veel kleine sclerotia, waardoor het lastig kan zijn ze te scheiden van het klonterige substraat. Ga dus extra zorgvuldig te werk bij het oogsten van deze soort.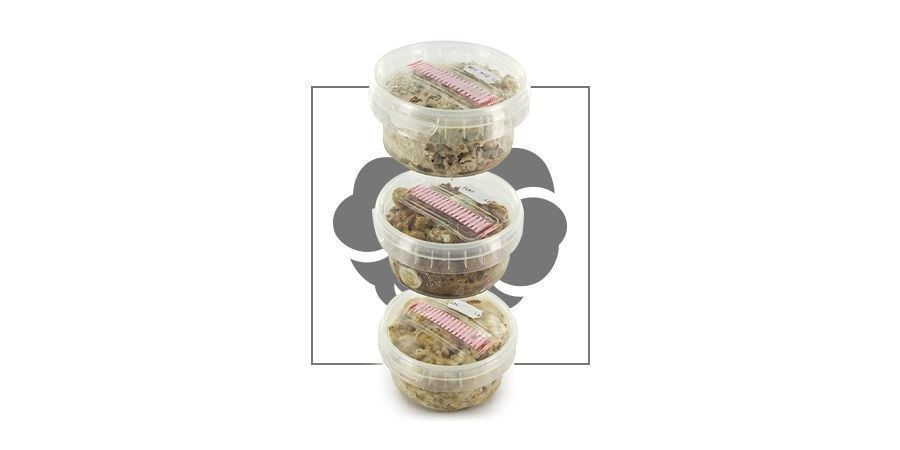 Bekijk Magic Truffel Grow Kit