Peyote (Lophophora williamsii) 20 zaden
(

130

)
Met onze vers geoogste Lophophora williamsii (Peyote) zaden, kan je nu zelf je eigen Peyote cactus kweken. Vergeleken met volgroeide Peyote cactussen, kan het kweken van je eigen Peyote meer economisch zijn, omdat je dit relatief goedkoop zelf kan doen. Daarnaast zal je zien hoe je Peyote zaden zich ontwikkelen tot bloeiende planten, wat op zichzelf al een fascinerende hobby is!
Dit artikel is niet beschikbaar in jouw land
Het spijt ons, dit product is momenteel niet beschikbaar voor verzending naar jouw land. Kom later terug om te zien of het in de toekomst wel mogelijk is.
Meer informatie
Lophophora williamsii (Peyote) zaden verzekeren maximaal succes
Onze hoogwaardige Lophophora williamsii (Peyote) zaden zijn altijd vers geoogst om te verzekeren dat ze ontkiemen en succesvol kunnen worden gekweekt. De kans is groot dat je extra zaden in je bestelling vindt, zodat je altijd een flink aantal Lophophora williamsii zaailingen zal hebben.
Het kweken van Lophophora williamsii, of elke andere cactus, is niet ingewikkeld als je basis goed is. Om een goede start te garanderen en bij te dragen aan een succesvol begin bij het kweken van je eigen cactussen en vetplanten vanaf zaad, ontvang je ook nog gedetailleerde en overzichtelijke instructies.
Lophophora williamsii (Peyote) komt oorspronkelijk uit Mexico en het zuiden van de VS, wat betekent dat ze dol is op zeer droge en zonovergoten omstandigheden. Peyote groeit het beste in aarde die rijk is aan mineralen. Een mix van 50% zand, 25% gruis of bims (Beneficial Indigenous Microorganisms) en 25% standaard potgrond is een geweldig groeimedium gebleken voor deze types speciale cactussen.
Wanneer je Peyote kweekt, moet je een minimale temperatuur van 10ºC verzekeren en genoeg zonlicht zodat je Peyote cactus kan floreren. Peyote zal zich ontwikkelen tot een bleekgroene, bolvormige cactus met roze/witte bloemen.
Inhoud: Pakje met 20 Peyote (Lophophora williamsii) zaden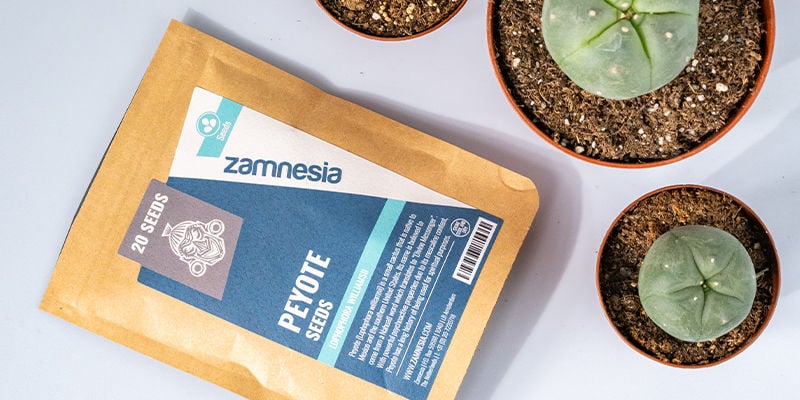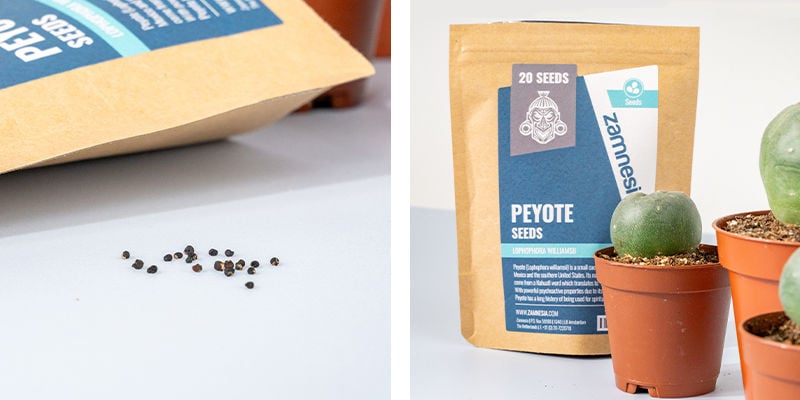 Peyote (Lophophora williamsii) 20 zaden Product Informatie

| | |
| --- | --- |
| Cactus | Peyote |
Aanvullende informatie over dit product:
Reviews (130)
View all reviews

24/Nov/2023

Fast alle gekeimt TOP
Die Ware ist wie erwartet schnell angekommen und von den Samen sind fast alle aufgegangen. Die Kleinen sind in der Sonne schon ein wenig gewachsen, jetzt jedoch in der Winterpause. Ich denke ich werde die noch einmal bestellen. Top Qualität.

21/Nov/2023

Satisfait
Semis le 4/11 le 21/11 14 bébés peyolts ont pointés le bout de leurs nez et même certains au bout d'une semaine Comme d'habitude merci zamnesia pour votre sérieux

29/Oct/2023

Bien
Lo prometido, 20 semillas. Ya veremos como crezen...

18/Oct/2023

Perfecto!
El producto llegó en perfectas condiciones y con envío rápido!

04/Oct/2023

Satisfait
Très heureux d'avoir fait naître ces jolis bébés, je pensais l'exercice hardi, mais c'était sans compter votre précieuse aide, en effet, les articles concernant la culture de ces cactus m'ont permis aisément de faire germer plus de la moitié de mes graines, alors merci Zamnesia! PS: ils ont maintenant un mois et se portent à merveille.

05/Sep/2023

Buena compra
Me han terminado un 60% de ellas, son unas bonitas enredadera

27/Aug/2023

Brilliant
All seeds germinated and I'm very happy with their progress. Peyote is a slow grower so I'm going to graft them onto San pedros.

06/Aug/2023

Good seeds
Good germination rate

05/Aug/2023

Germination and service
Happy with a quick germination, 13/20 . can be quite tricky and require specific conditions or germination. Excellent service with good communication.

01/Aug/2023

Good germination rate
9 out of 10 germinated

26/Jul/2023

graines peyotl
Reçu très rapidement, colis discret. 50% de réussite au bout de 15 jours (semis fait le 1er juillet).

13/Jul/2023

Enfin!
Je cherchais des graines absolument et zamnesia la fait !! .trop content d'en avoir enfin chez moi .sur les 20graines 11 sont sortis et en pleine forme Commande expédié rapidement comme à l habitude ! Jamais déçu Merci zammi

05/Jul/2023

Achat compulsif!!
Graines mises en culture mais je n'avais pas conscience de la patience nécessaire avant de pouvoir les consommer (rdv dans 15 ans!!). Je me questionne aussi sur l'éthique quand j'écoute des reportages sur le peyotl qui est très fragile (cf le documentaire Voyage aux confins de l'esprit).

29/Jun/2023

Gutes Saatgut
Habe sie in sand erde gemisch gepflanzt, es sind 2 von 5 Samen gekeimt. Ist in Ordnung

31/May/2023

Peyote (Lophophora williamsii) 20 seeds
Germinating outdoors at shadow,, a little more than 300% have germinated.

27/May/2023

Bien recu
Merci

15/May/2023

Ottimo prodotto
Ottimo

12/May/2023

14/20 Germinated
Nice germinationrate!

02/May/2023

patience
Il fait encore frais pour les faire germer, alors j'en ai commandé un déjà sur 4 cm. En tout cas la livraison au top comme d'hab !

25/Apr/2023

Belle qualité de graines
8 graines sur 10 ont germé en moins d'une semaine, beau développement du cactus. Recommandable !

24/Apr/2023

Bin gespannt
Schnelle Lieferung wie immer. Prima ausführliche Anleitung hier auf den Seiten. Bin sehr auf das Resultat gespannt.

10/Apr/2023

Semi professionali
I semi sono preparati con cura e confezionati in sacchetto ermetico, molto professionale. Non si può giudicare più di tanto la qualità, perché sono semi a volte poco germinativi, anche se il Peyote (Lophophora williamsii) è fra i più attivi. Se tenuti in germinatoio e sopra i 20 °C, nel giro di 10 - 15 giorni nascono le prime piantine.

06/Apr/2023

Andere Verpackung
1 Stern Abzug aber auch nur weil bei uns die Postboten leider mit den Paketen anscheinend Basketball spielen.... Ich habe 3 Samen zerschreddert gefunden.... Aber ich muss dafür wieder einen Stern dazu geben, da Zami so lieb war und mir ein Angebot gemacht hat und mir neue Samen oder kaktusnahrung gratis zu senden das nenn ich Kundenservice von 1. Klasse Aber ich würde vorschlagen über eine andere Verpackung nachzudenken da ich sicher bin das die Post schuld war und mein Paket entweder ganz unten unter anderen Paketen gelagert hatte oder das es dem Postboten runtergefallen ist... So etwas wie bei den Hanf Samen wäre perfekt

26/Mar/2023

Kein Lebenszeichen
also bei mir sind die Samen nichts geworden, alle unter unterschiedlichen Bedingungen eingepflanzt, genau nach Anleitung aber bisher ist nichts zu sehen.

25/Mar/2023

Ottimi
Ottimi

12/Mar/2023

Très fun
Plus de 50% de germination, les graines ont germées très rapidement. Il n'y a plus qu'à attendre.

11/Mar/2023

Great!
So far I'm satisfied :)

18/Jan/2023

Piantati e nati
sono nati!!!

16/Nov/2022

4 sur 20 après 3 semaines
Pour le moment, j'ai 4 graines sur 20 ayant germé. Elles sont dans de petits pots en terre cuite, terreau à cactus, à 23 degrés grâce à un tapis chauffant et un thermostat. Je vais attendre encore un peu pour les autres mais je trouve tout de même que le taux de germination est un peu faible par rapport à d'autres commentaires.

31/Oct/2022

Le précieux cactus !
De façon général les graines de cactus pousse bien , après il faut juste du soleil , de la patience. Plante de collection, dire que c'est interdit . C 'est pas pire que les pesticides ou gaz d'echapement.

17/Oct/2022

Muy buen producto
Cumplió todo lo que especificaba, ¡ya tengo mis peyotitos!

04/Oct/2022

Semences fertile
Sur 3 plantées, 3 ont germé. J'attends quelques semaines pour les séparer en leurs apportant a chacune un pot individuel et une petite dose de npk 12-20-12.. ma chérie trouvé qu'elles sont trop mignonnes encore ''verte-translucide''. Bref merci, comme à chaque fois vos cactus, boutures ou graines, vos lianes argent, vos pavot, kit champi, seringues et empreintes, tout germe et pousse très bien.

10/Sep/2022

Peyote zaden
Goede zaden ,snelle levering en een uitkomst van 18 op 20

07/Sep/2022

Peyote
70% positive Keimrate.

23/Jun/2022

The cutest babies!
I'm a keen gardener and have only recently stepped into the world of growing Zamnesia seeds of all kinds. What fun! I largely followed the directions in the cactus growing guide, and I have to say I'm impressed that here after two weeks, about half of the seeds have germinated, which is very good considering they are very much out of their native habitat. I'm looking forward to following their further development -- and to try a little slice of my own Peyote in 2-3 years ... not a rush job for sure, but very satisfying all the same.

15/Jun/2022

Nice
First time growing cacti from seed 65% germination rate .

14/Jun/2022

7 su 20
I lophophora sono spuntati molto velocemente (+-5giorni) Per colpa di un mio errore sono sopravvissuti soltanto 7. Ottimo prodotto

11/Jun/2022

Peyote
Sehr gut gekeimt und wachsen schön in meinem Gewächshaus. Danke Zamnesia.

26/May/2022

pousse pousse
I grew 10 seeds out of 20, then a pretty good result. I hope that I will be able to give them good living conditions

24/May/2022

Très bon produit
17 graines sur 40 ont germé. Elles poussent très bien. Courrier très bien emballé, envoi discret et reçu rapidement.

22/May/2022

cactus
Goed product, zeer tevreden, 60-70% kiemen.

18/May/2022

PEYOTE (LOPHOPHORA WILLIAMSII) 20 SAMEN
Top.

06/May/2022

maintenant patience
bonjour a tous, colis reçu rapidement tout est ok, service client au top, merci Zamnesia,

10/Apr/2022

prima volta
10 su 20 è la mia prima volta vedremo come andrà ..

21/Feb/2022

Ottimi
Non avevo alcuna competenza nella coltivazione, ma questi piccoli semi richiedono molto poco, se non pazienza. Dopo due settimane di attesa ho visto i primi bottoncini verdi spuntare nel terreno. Vedere le piante crescere da zero non ha paragoni rispetto ad acquistarle già adulte.

18/Feb/2022

sacré cactus!
j'ai semé 40 graines de lopho +san pedro +torche bolivienne+ torche péruvienne, soit la moitié des 4 paquets, pour l'instant j'ai 34 cactus qui poussent sur un terreau spécial cactus du commerce, tout va bien malgré un manque cruel de soleil entre mi-janvier et mi-février, les pousses manquent un peu de chlorophylle je complète avec lumière artificielle... à suivre

09/Feb/2022

Bon SAV
Les premieres graines recues n'ont pas germé, mais le SAV a insisté a "ne pas me laisser mecontant de mon experience", il m'en ont renvoyé d'autres qui ont bien mieux germé.

04/Feb/2022

super
growing good, looking good

03/Feb/2022

Ça pousse
Excellente germination 12 de sorties , ca suis son court

31/Jan/2022

germination
ratio de germination de 40% . effectuer en milieu stérile, substrat cacte,sable ,perlite, le sav a fais un geste je les en remercie

14/Jan/2022

Pas encore planter
Bien recu rapidement,emballage top

03/Dec/2021

spedizione rapida
come da titolo, spedizione rapida. Non ho ancora piantato i semi perchè sto aspettando la primavera, lascio comunque una recensione positiva per la professionalità dell'imballaggio (pacchetto richiudibile più bustina) e la dedizione dello staff

25/Nov/2021

Bien reçus
Produits conformes et bien emballé.

20/Nov/2021

Williamsii
I didn't know what to expect but I got to Nice little spur From 20 seeds

21/Oct/2021

Fast germination
Bought a few packets and seedlings started appearing within a few weeks. I now have a propagator full of baby peyote!!

12/Oct/2021

Molta pazienza
Munitevi di tanta tanta pazienza e curate maniacalmente ogni passaggio. Un quarto dei semi è germogliato e sta crescendo bene. Molto impegno, soprattutto nelle prime fasi, quando le piccole vite sono delicatissime. Abbiatene cura, non lasciatevi sopraffare dai momenti di difficoltà e sconforto e verrete ricompensati dal frutto del vostro impegno.

18/Sep/2021

Peyotes
Solo me han salido 4, pero es una oportunidad fácil para cultivarlos

31/Aug/2021

Perfetto
Ho acquistato questi semi ad esclusivo scopo di collezionare diverse varietà, ma non l'ho piantati, quindi non posso dare una recensione sulla pianta o sull'efficacia dei semi, ma ci tenevo comunque a mettere 5 stelle. Metto 5 stelle perché il design mi è piaciuto molto. La scelta del cartoncino marrone, molto naturale. In più la bustina è sigillabile per evitare che l'aria entri, fantastica.

28/Aug/2021

Alle begin is moeilijk.
Ik bestelde de zaadjes omdat ik las dat de Peyote op "uitsterven" staat en niet om een cactus voor consumptie te kweken. Helaas heb ik nog veel te leren en zijn slechts 2 van de 20 zaadjes ontkiemt. Ik denk dat de natuur nog even in de gaten moet krijgen dat ik aan haar kant sta ;-) Het product mag de hoge score dus delen met Zamnesia, waar ik zeker tevreden mee ben.

26/Aug/2021

Best quality
These seeds have a good germination rate, 13 plants germinate out of 20 seeds. I will buy more from you guys!

17/Aug/2021

Excellent quality
I considered buying elsewhere but I didn't want to take the chance, I know Zammie is a true pro. Seed sprouted in 2 days! Signs of excellent quality. Everything came nicely sealed and safe.

28/Jul/2021

great
10 plants have grown now only 4 survived for now, I have to improve as a grower

17/Jul/2021

Good seeds
This seeds are good at lest 13 germinated and doing fine. I recommend this product

04/Jul/2021

Germination isn't great.
Only 15/20 seeds arrived intact , the rest was crumbled into dust , out of these 15 i had 6 of them germinating and growing healthy , i dont think these seeds are fresh.

02/Apr/2021

Envío recibido rápido
Rápido y económico. A la espera de que nazcan ... O no xD

30/Mar/2021

Peyote
Hatte schon ausgewachsene, aber noch nie selbst welche gezogen... Hab mir eine kleine Aufzuchtbox gekauft, Kakteensubstrat und angepflanzt... nach 2 Wochen kamen 2 von 3 und der 3te auch deswegen nur nicht weil es geschimmelt hatte.. Und das lag nicht am Samen sondern daran dass die Erde nicht steril war. Würde es jedem empfehlen diesen Kaktus anzubauen, nicht wegen dem Meskalin, macht einfach keinen Sinn solange dafür zu warten, aber für dir absolute Schönheit des Kaktus', zudem ist er auch sehr selten und blüht wunderschön rosa. Ist für mich ein kleiner Traum diesen Kaktus anzubauen. Die Samen von Zamnesia sind top Ware, kann man echt nichts sagen.

28/Mar/2021

Didn't manage to grow yet
I tried some seeds but maybe I didnt get the conditions right. I'll try again shortly and will adapt my rating accordingly then.

26/Mar/2021

comme annoncé
j'en ai planté 7, 3 sont parties, ça semble plus long que d'autres espèces (comme annoncé)

20/Mar/2021

awesome!
good quality, its kind of easy to plant, just have to wait!

17/Mar/2021

1 Samen ist aufgegangen, nach aussaat vor 1,5 Wochen
hab 20 verteilt es bliebt spannend... und es ist soooooo aufregend meine ersten Kakteen beim wachsen zu zuschauen. :)

08/Mar/2021

noch nicht ausprobiert
bisher einfach noch keine zeit gehabt die einzupflanzen

24/Feb/2021

Anbau erst im Frühling
Habe die Samen leider noch nicht ausprobieren können da hierbei zamnesia steht man soll sie im Frühling anbauen aber habe mal 5 Sterne gegeben weil ich viel Gutes darüber gehört habe

19/Feb/2021

nothing is sprouting...
Sadly nothing has sprouted... I have the right substrate, heating pad, sprouting box, i used room temperature water ... It has been 1 month that i am watching them. At some point one seems to sprout but nothing. I don't know... Same thing happen to the san pedro seeds started at the same time...

17/Feb/2021

Germination rate /maybe different seeds than it was saying on the package
Planted 20 of them on the 8th of February so far 2 have popped up (soil mixed with perlite) They look quite tall for the being peyote so I'm not really sure if the seeds are from a different cacti. We'll see. I like zamnesia in general as a company and I don't like to complain about stuff

16/Feb/2021

No effects when taking 7.5g
Nothing happened

19/Jan/2021

confezione e sevizio eccellente! per ora ancora non li ho piantati
non li ho ancora piantati!

23/Nov/2020

El proceso
Recibí las semillas perfectamente, aunque me sorprendieron por su pequeño tamaño. Preparé un semillero, tierra de cactus y una temperatura constante de 20-25°C... Al cabo de unas tres semanas habían salido 9 cactus de 20 semillas. Después de tres meses los nueve cactus aún viven y aguantan al sol de noviembre en el sur de España. En cinco años os cuento más.

25/Sep/2020

Bonne germination dans l'ensemble
Pour l'instant un taux de 40% de germination et meme s'il va falloir attendre de longues annees pour pouvoir en profiter!

08/Sep/2020

Healthy seedlings
My baby Lophophora williamsii are looking great. Although I only had 5/20 of them actually germinate I think this was due to a mistake of my own. These seeds needs to sense a big difference between day and night temperature to kick-start their germination but I planted them in the midst of heatwave during which the temperature did not drop much at night.

31/Aug/2020

Highly recommended
First time we have ever planted cactus seeds 4 weeks in and we are loving it, I wasn't expecting much from this but we are surprised how many look healthy!!!! Thank you so much guys, brilliant all round service, sending you all blessings

07/Aug/2020

mo
très bien merci

13/Jul/2020

Peyote all around!
My first self grown peyotes had a really good germination quote! 15/20 came out, so that's really good!

11/Jun/2020

Multiple purchases
From my first 20 seed, I had a 60% germination rate. One later bit the dust, due to the way the seedling germinated onto a piece of perlite. So I changed up my game a bit, got sharp sand from garden Center. Washed it many times, and filtered and graded it. Perlite, in my experience is bloody annoying. When misting it blows around like tumble weed, so you end up misting from such a distance! So I put 50% perlite and sieved soil in my tub. Water it with rain water or bottled water. I now use bottled water entirely because there's no need to sterilise whereas rain water can develop algae in your tubs, which will kill them off. And boiling rain water is such a waste of life... Anyway! Now your mix is burning your hand, leave to cool for a couple minutes. Then get some sand, with very small gravel chipping from the sharp sand. mix again with sieved soil. Cover all the perlite in about half a cm of this mix. Spray it down! If you don't spray it down now, your seed will not sit how you want them to. Don't soak the shit out of it, just mist. Then pop your seed on, and ever so lightly dust with dry washed sterilised sand, like putting a fine layer of icing sugar on a cake. This is to retain moisture around the seed. Do not bury! This method has made for much healthier looking loph's, and seemingly improved many factors of the grow. Like having a seedling stick to a piece of perlite and it gradually tipping and having a shitty time. I also use dry sand to feather in tipping plants as this covers the root. Again don't bury your plants!

04/Jun/2020

thumbs up
Cacti growth guide at zamnesia is really good. Now I have 60 cacti growing in my greenhouse. I hope to plant them into one big pot in a spiral formation when they are bigger to transplant. I recommend to get more seed than you need because cacti seeds are tricky to bloom at first.

01/Jun/2020

awesome!
I cant wait for the cacti to start growing! ...but they do take their time

25/May/2020

Medie Possibilità
La metà sono venuti su, gli altri no.

15/May/2020

Hard to germinate
Primo acquisto pessimo: di 40 semi ne ha germinato solo uno, in vaschette di plastica della frutta chiuse con cellophane e con terriccio universale 50% perlite 50%. Alla seconda volta che li ho acquistati, mettendoli in un Terriccio per piante grasse 50% perlite 50%, piccola serra in plastica, ne sono germinati solo 8.

06/May/2020

25% germinated
I bought 3 packets of seeds because I knew the majority of seeds wouldn't germinate. Out of 60 seeds 14 peyotes came to life.

13/Apr/2020

The seeds arrived destroyed!
Only 5 seeds arrived in optimal condition, all the others were broken. I was really excited about make my own peyotes but now I'm only frustrated. This is a shame because zamnesia is an amazing website! I hope mine was matter of bad luck and that any other costumer will have to be as angry as me

23/Mar/2020

Be patient
After I ordered the seeds, it took me a almost a year before I finally sowed them. Analysis paralysis, I guess, as I thought I needed to create the perfect soil mix and never got round to it. Eventually I put plain vermiculite in a pot, watered and drained it well and put the seeds on top with a cover of saran wrap. The first seedling sprouted after exactly one week. Now, one month after sowing, I have six little ones soaking up spring sunlight. Very happy with the process!

03/Mar/2020

great buy
7 of the seeds have germinated after 4 weeks so germination still in progress, moreover these puppies can sometimes germinate a whole year later as nature makes their germination sporadic on purpose. Thank you Zamnesia!

04/Feb/2020

Patience!
These naturally take a long time to germinate and even when under ideal conditions, grown by an experienced gardener, only 70% of the seeds would be expected survive. Remember you're dealing with nature, not something that's come off a production line. The product is good.

28/Dec/2019

Papi
I bought 20 seeds and after germination I have only 5 plants..

08/Nov/2019

Samen
Leider noch nichts gewachsen

17/Oct/2019

Good service
Germination in progress...

28/Jul/2020

only 3 grew out of 20
only 3 grew out of 20

22/Jul/2019

So far so good
About half of the seeds have germinated, quick & easy delivery too.

07/Jun/2019

Eight germinated
Of the 21 seeds received 8 germinated which ain't too bad.

28/Dec/2018

Contento
Todo llego bien y espero el momento de probar la psicojardinería Muy buen servicio

07/Dec/2018

Great!
Shipping as always great! The small ones grow well despite winter!

02/Aug/2018

Coming slowly :)
I have followed the instructions, and I'm 3 weeks in to the growing. So far a few of the seeds have started to sprout, and I can see the small green teachers appearing. Looking forward to tend for them the next years to come :)

02/Jul/2018

Un vrai plaisir à faire pousser.
Je les ai mis à germer dans du terreau à cactus pour la germination. Par contre j'ai fait un erreur, je n'ai pas maintenue l'humidité pendant deux jour et il y a donc que 5 graines qui ont germé sur 20. Ils ont un mois, ils sont tout mignon. J'attend un an avant de les rempoté dans un meilleur pot.

18/May/2018

Only three germitated
I'm usually happy with Zamnesia products, but I think with the peyote seeds they dropped the ball. After 10 days, only three of them have germinated.

28/Jul/2020

20 seeds none germinated
From a 20 pack unfortunatelly zero germinated while Peruvian Torch germinated 16 out of 20. Makes me wonder if the seeds were old or low quality. Buying a second pack to try again. Followed the provided manual https://www.zamnesia.com/content/517-peyote-seeds-how-to-grow-your-own-peyote-cactus

07/Apr/2018

One plant lot of spheres
Best company in the universe !

27/Jul/2020

Correct delivery
It´s too early to start with germination due to low temperature this March, so info about it will come later...that´s why only 4 stars.The pack arrived in 1 week time, very discrete packing, everything was correct. I am happy with the customer support of this page.

20/Oct/2017

Fast sprouting
So far 3 have already sprouted. They are so cute.

28/Jul/2020

Mystery seeds
I don't know what I have been sent but having grown peyote before these seeds I purchased aren't peyote and most of them have not germinated. I will not be buying from this company again.

27/Jul/2020

Two tiny plants already!
I sowed these about a week after they arrived, covering the pot with clingfilm to keep the humidity high (helps germination). I keep the pot in a warm place, about 18-22C, in a bright place, but not direct sunlight. Within a week two germinated, so that's a good start. The compost needs to be kept moist to help the seeds germinate, so hopefully there will be more coming up. It's a good start and I am happy with what I have so far. Once they get a little bigger I will poke a couple of holes in the clingfilm to gradually reduce the humidity and harden the plants off before I eventually pot them into proper cacti compost - hoping they survive that long :)

16/Jul/2017

Ali T
I plant the seeds two weeks ago and still waiting to see my cacti.

Je kunt geen review plaatsen omdat je niet ingelogd bent als klant


Beperkingen
Houd er rekening mee dat als je land niet op onze algemene verzendlijst staat, we er geen artikelen van onze website naar kunnen verzenden. Bekijk hier de lijst voor meer informatie: Bestellen & Verzenden
Video (0)