Wat Zijn Flavonoïden?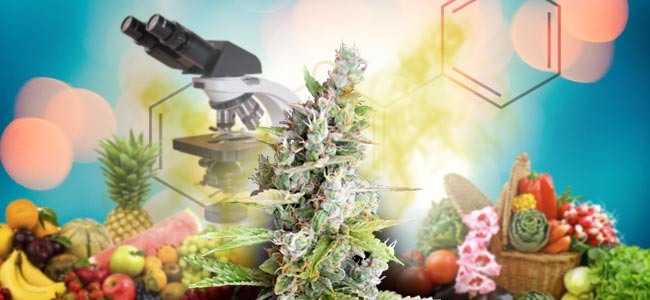 Flavonoïden zijn volop aanwezig in fruit en groente, en worden ook in veel andere plantensoorten aangetroffen. Flavonoïden worden geclassificeerd als secundaire metabolieten en beïnvloeden de planten op veel manieren en zijn essentieel om te overleven. In wetenschappelijke termen kunnen ze beschreven worden als fytochemicaliën of plant chemicaliën. Tot op heden zijn er minstens 6,000 verschillende flavonoïden geïdentificeerd. Er zijn ook synthetische flavonoïden ontwikkeld.
cannabis bevat flavonoïden. Hoewel ze vooral in de toppen worden gevonden, zijn ze ook aangetroffen in de bladeren en takken. Cannabiszaden en wortels bevatten geen flavonoïde moleculen. 23 flavonoïden uniek van cannabis worden "cannaflavins" genoemd.
Cannabinoïden, specifiek THC en recenter CBD, zijn alom bekende namen geworden. Onderzoekers zijn nu in staat om meer van de in cannabis aanwezige bestanddelen te onderzoeken. Terpenen, terpenoïden en flavonoïden staan eindelijk in de spotlight en onder de microscoop.
DE ROL VAN FLAVONOÏDEN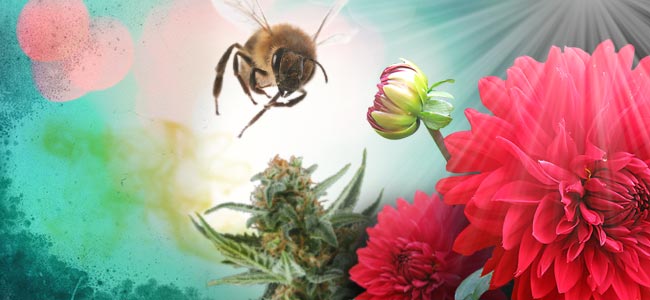 Flavonoïden spelen veel rollen in de plantontwikkeling; kleur in bloemen om insecten aan te trekken voor bestuiving, UV-filtratie, zuurstofopname, plaag- en schimmelpreventie en nog veel meer kan worden toegeschreven aan flavonoïden. Specifieker, in het geval van cannabis, zijn de bijdragen van flavonoïden het meest merkbaar in de geur en smaak van een variëteit.
Flavonoïden zijn niet-psychoactief. Er wordt echter verondersteld dat, vergelijkbaar met CBD, flavonoïden een synergetisch effect kunnen creëren in combinatie met THC. Ze dragen bij aan het "entourage effect". Bovendien zou het niet als een verrassing moeten komen dat flavonoïden, als leden van de fytonutriënten familie, geweldige antioxidante, ontstekingsremmende, antibacteriële en antivirale eigenschappen heeft.
DE MEEST VOORKOMENDE CANNAFLAVINS
Op dit moment zijn er 23 cannaflavin flavonoïden geïdentificeerd. Hieronder zullen we in detail treden over wat de meest voorkomende flavonoïden en cannaflavins zo gunstig maken voor cannabisconsumenten.
Apigenine is een kleur flavonoïde aanwezig in veel fruit en groente zoals uien en sinaasappels. Het wordt in diverse industriën gebruikt om textiel te verven. Deze flavonoïde is uitgebreid getest in dieren en toont hoopgevend voor menselijke medicijnen. Onderzoek op muizen en ratten liet zien dat apigenine antioxidante, ontstekingsremmende en anticarcinogene eigenschappen bezit. Waarbij de onderdrukking van tumorgroei die werd waargenomen in knaagdierstudies de meeste interesse wekte.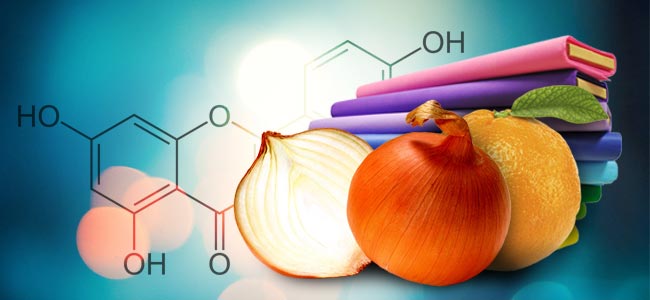 Quercetine is de flavonoïde die het bekend staat als het geheime ingrediënt in "superfoods" zoals appels, bosbessen, broccoli en tomaten. Weer is dit een kleur flavonoïde die aangetroffen wordt in levendig gekleurde vruchten en groente. Quercetine is ook een uitstekende antioxidant en ontstekingsremmer. Hoge leeftijd en anti-verouderingseigenschappen in mensen zijn in verband gebracht met een quercetine-rijk dieet. Veel sportsupplementen bevatten quercetine omdat er wordt geloofd dat quercetine uithoudingsvermogen verhoogt.
Cannaflavins A en B werden in de jaren 1980 geïsoleerd door dr. Marilyn Barrett en haar team. Barrett publiceerde haar bevindingen in juni 1985. Cannaflavin A bewees in studies 30 maal effectiever te zijn dan aspirine. Helaas vragen cannaflavin B en cannaflavin C, recenter geïsoleerd in 2013, verder onderzoek om hun potentiele medicinale waarde te ontdekken en vaststellen.
Bèta-sitosterol is feitelijk een fytosterol of plantensterol aanwezig in fruit, groente, noten en zaden. Vreemd genoeg is het ook een precursor van anabolische steroïden. De US Food and Drug Administration stelt over voedsel dat bèta-sitosterol bevat dat het een verminderd risico op coronaire hartziekten geeft door cholesterolniveaus in het bloed te verlagen. Bovendien wordt bèta-sitosterol volop gebruikt in medicatie - van topische zalven voor sneëen en brandplekken tot preventie van darmkanker.