Wat is kattenkruid?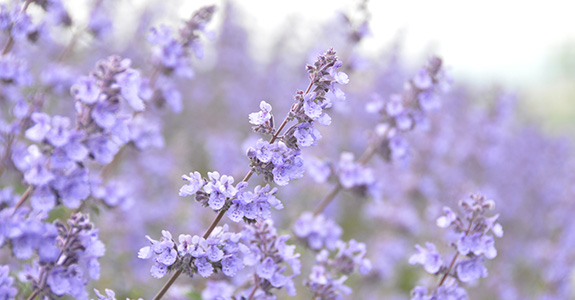 Kattenkruid, ook wel catnip of catmint genoemd, is een kruid die het meest beroemd is om het feit dat ze katten naar nirvana stuurt. Kattenkruid, die tot dezelfde plantenfamilie behoort als vele mintsoorten en dovenetels (de Labiatae Familie of Lipbloemigen), kan in het wild worden gevonden in de centrale en zuidelijke delen van Engeland, tussen de vele hagen en akkerranden in het land. Vanuit Engeland werd het geïntroduceerd in gebieden in het Europese vasteland en daarna in Azië en Noord-Amerika.
Als het om katten gaat, heeft kattenkruid haar populariteit te danken aan haar unieke geur, die lijkt op zowel de Pennyroyal als de mint. Wanneer kattenkruid wordt gekneusd, geeft het haar onweerstaanbare aroma af, tot het punt waar katten de plant zullen vernietigen omdat ze er zoveel tijd chillend en rollend in hebben doorgebracht. Dit betekent dat de meeste getransplanteerde kattenkruid planten zullen worden vernietigd als ze niet worden beschermd tegen katten, omdat ze licht worden gekneusd tijdens het proces van planten. Als kattenkruid daarentegen vanaf zaad wordt gekweekt, bestaat de kans dat katten het met rust zullen laten, omdat de plant dan zelden wordt gekneusd en dus ook de geur niet zo gemakkelijk verspreidt.
Kattenkruid is echter niet alleen voor katten. Het wordt al eeuwen gebruikt als kruidenmiddel. Het heeft bijvoorbeeld ongeveer hetzelfde, ontspannende effect op mensen als op katten, maar niet in dezelfde mate. Daarnaast wordt het veel gebruikt in de kruidengeneeskunde om maagaandoeningen te behandelen, zoals een verstoorde maag en diarree.