Smart Start
(

396

)
Smart Start is gewoon de makkelijkste manier om je wiet zaden te ontkiemen, met een minimum aan gedoe en maximaal succes. Het bestaat uit een compacte tray van 20 kleine potjes gevuld met compost, plus een pakket Stimulator Mix voor het activeren van de essentiële microben. Smart Start voor een optimale ontkieming, alleen water, de Stimulator Mix en wietzaadjes toevoegen!
Dit artikel is niet beschikbaar in jouw land
Het spijt ons, dit product is momenteel niet beschikbaar voor verzending naar jouw land. Kom later terug om te zien of het in de toekomst wel mogelijk is.
Meer informatie
Smart Start: De Slimme Manier Om Je Wietzaden Te Kiemen
Zodra je de perfecte strain heb aangeschaft, kunnen je zaden linea recta in de aarde!
Dit heb je nodig:
Smart Start Kit
Ongeveer een kopje handwarm water
Een propagator, bijvoorbeeld onze Propagator Pro
Wat perliet (Dat is handig! De Propagator Pro komt met precies de juiste hoeveelheid perliet die je nodig hebt)
De rest is een eitje:
1. Los de meegeleverde Stimulator mix op en laat de Smart Start het 5 minuten absorberen.
2. Bedek de bodem van de propagator met perliet. Plaats vervolgens de Smart Start op het laagje perliet.
3. Plaats in elk potje een zaadje.
LET OP: Begraaf je wietzaadjes niet dieper dan 1-2mm om te voorkomen dat ze stikken. Je hoeft de zaadjes verder niet met aarde te bedekken. Je zaadjes moeten zichtbaar blijven, want dat maakt het verpotten van je zaailing makkelijker.
4. Nu hoef je alleen je propagator nog maar af te sluiten en te wachten tot je zaadjes opkomen.
Voor nadere instructies, waaronder een handige instructievideo, klik je op de onderstaande link: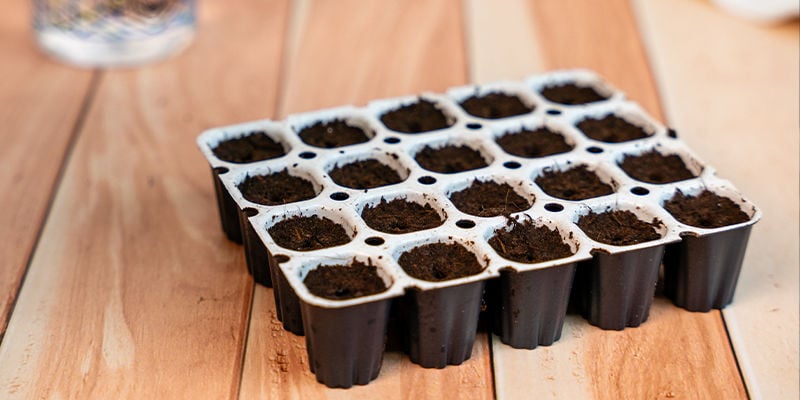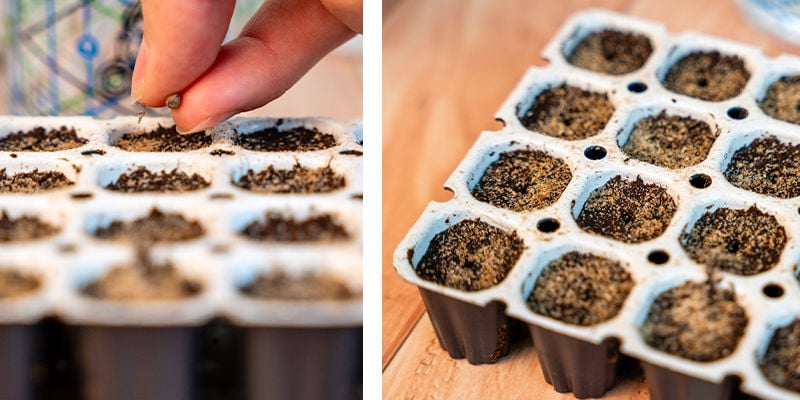 Aanvullende informatie over dit product:
Reviews (396)
View all reviews

25/Nov/2023

Great
Worked very Good root fast and grow fast

09/Nov/2023

Problemlos 100% keimrate
10/10.. Keine 12 Stunden später sind die Babys da

18/Oct/2023

Leichte Handhabung
Super einfach die größe/menge der Anzuchttöpfchen anzupassen bisher in jedem töpfchen ein köpfchen zu sehen bin sehr zufrieden

28/Sep/2023

Very suitable for beginners
All seeds sprouted perfectly. Easy to repot. Thank you ;)

27/Sep/2023

Superb
Great thing

09/Sep/2023

Pas mal
Je ne sais pas s'ils sont si utiles que ça pour faire germer les graines, mais ça a bien fonctionné dans mon cas (10 germinations sur 10). Je ne m'attendais pas à ce qu'ils soient si petits.

25/Aug/2023

Service
Even though i didn't receive that in my order, I'm still satisfied with the voucher i received instead

22/Aug/2023

Smart Start
Pas mal, mais les pots sont trop petits, pas assez de terre; la manipulation des plantules est difficile pour un repiquage.

08/Aug/2023

Easy to use
I recommend this. Easy to use and efficient.

05/Aug/2023

Super
Tolle Sache

14/Aug/2023

Good
Very good product.

30/Jul/2023

Semplice e pratico
"vasetti" perfetti per la germinazione della cannabis. Sono riempiti con una torba finissima e compatta. Ognuno ha un buco al centro per porre i semi, nella torba, e per drenare l'acqua (nella plastica). Prezzo elevato. Di fatto non riutilizzabile: preparare a mano i coni di torba compattati il giusto è difficile

28/Jul/2023

Perfecte kweekbakjes
Ik had al op andere manieren geprobeerd om zaden te ontkiemen. Helaas deze keer lukte het niet goed. Totdat ik dit setje vond na overleg met zamnesia .Echt geweldig piepkleine bakjes met gaatje door en door. Je moet ze even laten weken in water met Wortelpoeder, daarna doe je voorzichtig het zaadje er 1 tot 2 mm in. Dag 4 kwam er aan de onderkant een stevige mooie wortel uit het bakje en had al blaadjes. Ik heb ook die bud mix genomen omdat ik benieuwd was hoe de planten daarmee zouden groeien. Voordeel van de bud mix is dat er iets inzit tegen insecten en je hoeft niet bij te voeden. De bud mix ruikt sterk naar chocolade en mijn hond vond het erg lekker dus heb de bakken achter kippengaas gezet.Die gaan ook mooi en snel. En alle 4 de zaden zijn uitgekomen. Ben benieuwd hoe groot ze gaan worden

22/Jul/2023

Perfekt
Super

21/Jul/2023

Smart start
Le top pour la germination je recommande !

20/Jul/2023

Smart start 95% germination
great thing, out of 20 seeds, only one did not germinate and one did not take root. the only thing is that it seems to be a bit slower, but I definitely recommend everyone to try it and see for themselves

13/Jul/2023

Echt een verschil
Kan ik aanbevelen

11/Jul/2023

Goood shit
It works real good zamnesia is the shit

10/Jul/2023

Einfache Hilfe, aber aufpassen
Ein Samen hat sich so verklemmt und ist verkümmert! Finde die Erde etwas zu hart für Samen.

04/Jul/2023

Super
Très efficace !

28/Jun/2023

Anfangs gut
War am Anfang ganz gut, man muss aber definitiv darauf achten das die Erde die man später verwenden möchte ähnlich ist wie die im Smart Start. Mir sind deshalb von 20 Pflanzen 9 verreckt

25/Jun/2023

Smart start
Funktioniert wunderbar!

23/Jun/2023

Geil
Einfach hilfreich

13/Jun/2023

Top zoon zaad start set.
Zeer zeker aan te raden. Plopt in een bakje met water roeren en zaadjes in de gaatjes.van kijken dat het kontje omhoog is maakt het iets makelijker. En donker plaatsje op een warmte kussentje en 6 gaasjes wachten en tadaaaa. Mooi uitgekomen zaad

01/Jun/2023

Perfekt
Für gibt es nichts besseres zum keimen . MFG

31/May/2023

Tres bon produit
Très bon produit qui marche très bien!

23/May/2023

nickel
foctionne tres bien et super pratique

17/May/2023

Beginner
Sehr gut!

12/May/2023

Genial
Bei Anwendung nach Produktinformation in Verbindung mit dem Propagator II sehr gutes Ergebnis. Alle Samen keimen innerhalb 24h

11/May/2023

De meest easy way, Super!
Ik moest voor een groep vrienden zaadjes ontkiemen die ze later in de tuin verder gaan laten groeien, ze hadden me did gevraagd omdat ik dit meerdere maal voor mezelf heb gedaan. Ik wou dat dit zeker ging lukken en en ik heb gewoon 2 propegators en 2 smart start van Zamnesia en zaadjes genomen. Het eind resultaat was top, ik heb er 30 zaadjes (toch om zeker te zijn dat er genoeg zouden iukken) in de smart start gedaan en er zijn 30 mooie, gezonde en sterke zaailingen uitgekomen.

06/May/2023

Sehr gut
Hat alles prima geklappt. In Wasser einweichen, Samen rein und abwarten. Ich habe noch zusätzlich meinen Anzuchtkasten genutzt wg Luftfeuchtigkeit.

30/Apr/2023

seit Jahren ein "must have" für Samen
SmartStart in Verbindung mit dem PropagatorPro2 sollte bei keinem Projektstart fehlen. Optimaler Start für Samen, bei richtiger Anwendung und guten Samen sogar Keimung innerhalb von 10 Stunden möglich. SmartStart in connection with the PropagatorPro2 should not be missing at any project start. Optimal start for seeds, with correct application and good seeds even germination possible within 10 hours.

28/Apr/2023

Perfekt
Hat super funktioniert, 7 von 7 Samen gekeimt

25/Apr/2023

Excellent
Parfait, facile d'utilisation 100 % de réussite, je recommande fortement

19/Apr/2023

Een aanrader..!
Erg fijn product...ook mooie uitleg via de kweekgids; goed bezig Zamnesia!!

19/Apr/2023

Simple and effective
I use it all the time I need to grow seeds, weed or other garden stuff

14/Apr/2023

working
Very good quality

14/Apr/2023

Starter
Alles was man für den Anfang braucht.

13/Apr/2023

flipflap
fonctionne très bien

10/Apr/2023

Efficace
Mes graines ont toutes bien germées dedans et même d'autres comme du piment ont poussé aussi, très simple et efficace.

08/Apr/2023

Top
Fonctionne très bien, très pratique !

07/Apr/2023

SMART START
werkt perfect met propagator pro zonder 24 op 24 licht een 4 dagen , ook smart start direct in pot geen probleem.

11/Mar/2023

Top!
Works as it should!

10/Mar/2023

Nice Plans
Good Produkt a lite Bigger would be Perfect but it does His Job

08/Mar/2023

1-5 Days
The first little leafes where there just after 5 days. Replacement to a bigger Pot wasnt a Problem. Thumbs up.

22/Feb/2023

Un pò deluso
Su 6 semi di apple fritter, solo 3 sono germogliati, la mini serra propagetor dopo una volta usata la luce non funziona più

20/Feb/2023

Au top
Fonctionne de ouf. J'étais sceptique mais ouai en 1-2j ça commence déjà à germé, contrairement au coton ou c'est plus hasardeux.

24/Jan/2023

GREAT
works fine

21/Jan/2023

Max
These are a brilliant way to start your seeds, have very few failures using these, and seeds will pop sometimes within as little as 24 hours. I wholeheartedly recommend them as the best way to germinate your precious seeds.

20/Jan/2023

Funktioniert super
Damit keimen die Samen wirklich sehr schnell nur toll aber kauft euch auf keinen Fall den propagator von Royal Queen sieht habe den auch und wenn ihr da den SmartStart reinstellt verfaulen alle Samen habe das Produkt Royal Queen sieht Anzucht-Set mal bewertet mit einer positiven Bewertung mittlerweile würde ich diese zurückrufen und kann die Bewertung ja leider nicht mehr ändern auf jeden Fall Smart Start an sich ohne den propagator ist wirklich sehr sehr gut

18/Jan/2023

Perfetto
Con questo kit germogliati tutti i semi piantati!

14/Dec/2022

7 of 13 germinated.
Aber es geht sehr schnell und einfach

05/Dec/2022

Empfehlenswert
Echt super leichter Aufbau, leichte Anwendung, gut keimungs rate

16/Nov/2022

utilisé à chaque fois! !!
vu le prix et l efficacité pourquoi s en privé

14/Nov/2022

GUT
Gutes Ansetztkit besser als das von Plagron

04/Nov/2022

Fantastycznie
Polecam amatorom

30/Oct/2022

Not strictly necessary but still quite useful
Although I'm not convinced cannabis seeds typically need much help for successful germination, I do think this product is quite useful to minimise any risk of seedlings not surviving. The main advantage (imho) is that seedlings will typically get firmly enclosed in a substrate that is easy to transfer to a growing pot and (perhaps more importantly) maintains optimal humidity, which is especially helpful for the seedlings during the first weeks after germination.

20/Oct/2022

Qualité
Bonjour à toutes l'équipe, Très bons produits pour les graines un 10 sur 10 pour les départs un produits Super . Un Gros Merci à Toutes L'équipe de Zamnésia pour votre Travail Merci

18/Oct/2022

Nice
Perfect start

18/Oct/2022

Top
Idéal, pratique pour les germinations

17/Oct/2022

Funktioniert!
Hat bestens funktioniert. Aufbau und Handling wirklich easy. Für den Preis absolute Empfehlung!

17/Oct/2022

Volle sterne für Keimung und schnelle
Ruckzuck Keimung zu 100% besser geht's nicht

04/Oct/2022

Smart Start
Absolut Hilfreich . Nur zu Empfehlen

30/Sep/2022

Es funktioniert
Das geht ganz gut, aber ist nicht optimal. Irgendwas passt nicht richtig. Bei mir sind nur 4 von 7 Samen aufgegangen die ich in der kleinen Lichtbox bei optimalen Bedingungen zum Leben erweckte.

27/Sep/2022

Top
Buonissimo prodotto germinate 10 su 10 grande zammy!

02/Sep/2022

Sa germe surper bien
C'est génial

30/Aug/2022

Grande professionalità
Su consiglio di un amico, ho deciso di fare un piccolo acquisto. Montare lo Starter Kit è estremamente semplice e con il 100% del risultato. Poi, quanti regali, semi, cartine, poster, adesivi e istruzioni chiare in tante lingue. Un plauso per l'ottima professionalità del team Zamnesia. Veloci nelle spedizioni e con particolare attenzione ai clienti. Comprerò di nuovo.

26/Aug/2022

Kann was!!
Ich hatte innerhalb von 1 !!! Tag eine sichtbare Keimung. Natürlich optimale bedingungen aber das war wirklich fix! Nach ca 3-4 cm umgetopft. Top!

26/Aug/2022

Propagator pro
Absolut 100% weiterempfehlenswert es funktioniert einwandfrei die Samen gehen alle zu 100% plus minus 10% auf ein super Gerät

24/Aug/2022

Super
Einfach super box

22/Aug/2022

Pratique
Sympa les petits pots et surtout très pratique

20/Aug/2022

Goed product
Kiemt in 2 dagen met de smart start, aanrader.

10/Aug/2022

Ottimo prodotto facile da usare
Lo acquisto sempre e ottimo

01/Aug/2022

top
besser geht's nicht!

30/Jul/2022

Smart solution
That's a very convinient way to start with your seeds. It works very well

21/Jul/2022

Alles Top
Es gingen bisher alle Samen mit dem Starter-Kit auf ohne jegliche Verluste.

19/Jul/2022

Super starter!
Keimrate 10/10! Besser gehts nicht

12/Jul/2022

Good product
Good product

08/Jul/2022

off to a good start !
Hi all 3 out of 3 beans popped with this hassle free method --- we'll see how it grows after

05/Jul/2022

Perfect!
Great for germination of all kinds of seeds.

26/Jul/2022

doet wat het moet doen
werkt wel goed

15/Jun/2022

Perfecte start van de zaden!
Wow, een vette aanrader! De smart start van Zamnesia geeft DE perfecte start aan je zaden. Goede omschrijving en materiaal maakt het nu kinderlijk makkelijk om te ontkiemen en uit te laten groeien tot een mooie volwaardige plant. Ook is er een zakje begin voeding aanwezig… ik zeg; aanrader!!!

11/Jun/2022

Excellent
Super produit. Taux de réussite avec ça combiné au propagator pro de 100% Merci!

03/Jun/2022

Nicht gut
Alle drei bestellten Samen sind nichts geworden . Lediglich der gratis mitgelieferte Samen ist aufgegangen. Die anderen Samen sind zwar aufgegangen, haben sich jedoch nicht weiter entwickelt.

27/May/2022

come in handy
nice and easy

21/May/2022

Great idea
Works perfectly fine, after 1 day the seeds cracked open already

19/May/2022

Alles super
Alles super

14/May/2022

Perfect, will use again
20/20 perfect

11/May/2022

Smart start
Surpris de voir les graines germer aussi facilement

08/May/2022

Gute Idee
SEhr gute Idee ,die SAmen lassen sich gut feucht halten.Top!

06/May/2022

super
Zu empfehlen

05/May/2022

Excellent !
Première germination, j'y ai placé 3 graines de Diesel automatic, 3 graines de Sunset Sherbet automatic et 5 graines non identifiées qui traînaient au fond d'un placard chez moi, tout est venu en moins de 3 jours, très simple à rempoter derrière, je conseil vivement !

05/May/2022

Makkelijk!
Hoewel ik normaal gezien ontkiemen in water of koffiefilter had ik niet echt nood aan een hulpmiddel. Uit puur gemak en luiheid toch aangeschaft en heel tevreden van. De blokjes zijn reeds voorzien van een gaatje waar je makkelijk de zaadjes in kan steken. Voor je dat doet los je de bijgeleverde voeding op in lauw water en laat de potjes hier vijf minuutjes water uit opnemen. Werkt zeer goed. Ik heb het hele kitje 2 dagen in een plastic zak met sluiting gezet voor de luchtvochtigheid.

01/May/2022

Germinatore
Comodo ma solo per pochi giorni, molto meglio nel vaso, resta più umida e germoglia prima

27/Apr/2022

Okay
Aide beaucoup pour une germination réussie ! La taille est correcte. Cependant moi qui ait fait germé que 3 graines pour le moment, cela aurait été cool d'avoir + de poudre à mélanger avec l'eau pour les petits pots... Pour refaire une germination + tard dans le temps... Mise à part ce détail, c'est un super produit !

27/Apr/2022

Pratico
Facile da usare, ottimo prodotto

23/Apr/2022

Un super départ pour nos petits chéris
Super facile d'emploi. Humidifier avec la poudre jointe diluée, attendre que la racine se voie dans le trou sou le pot, rempoter et, voilà

18/Apr/2022

Passt!!!
Sehr hilfreich, auch in Verbindung mit der Anzuchtbox...eine stabile Feuchtigkeit für eine zuverlässige Keimung ist somit gegeben Nichts ist ärgerlicher als seinen kostbaren Samen zu 'verlieren'.

12/Apr/2022

Perfecto
Perfecto germinaron las 20 semillas en 48 horas

30/Mar/2022

Bien
Simple d'utilisation mais prévoyez une mini serre pour compléter

30/Mar/2022

cheap and simple
easy to use, cheap to buy, use in combination with smart propagator box

17/Mar/2022

Bien
Super pratique à utiliser et je recommande !

15/Mar/2022

Smart start
Très efficace, fiable.

12/Mar/2022

smart
perfecto

11/Mar/2022

Es lohnt sich einfach
Es lohnt sich wirklich man muss sich kein Kopfschmerzen machen ob es keimen wird oder nicht damit funktioniert es immer.

26/Feb/2022

Da consigliare
Ottimo prodotto

24/Feb/2022

Pratique
Idéal pour faire germer!

15/Feb/2022

Onmisbaar
Ontzettend handige startset. Een keer wat anders geprobeerd maar snel weer terug naar Smart Start.

15/Feb/2022

The Best
Auf den Smart Start schwör ich.... Einfach genial.. samen rein und wenn die samen was taugen dann gehen die zu 100% auf.. Am besten mit dem kleinen gewächshaus und ner 5 watt heizmatte

10/Feb/2022

Utile
Facilità la coltivazione un buon prodotto

05/Feb/2022

Very good!
This helps a lot especially beginners! Remember to read the instructions well (I didn't!!). Results are good if you keep them moist!

04/Feb/2022

Top product!
Top product! Alles wat ik erin heb gegooid komt uit.

23/Jan/2022

Good
Très bien pour faire germer ses graines .

14/Jan/2022

Sehr zufrieden
Hohe Qualität, super verpackt, schnelle Lieferung. Immer wieder gern.

10/Jan/2022

schnell und einfach
Schnelle und einfache Variante für die Anzucht.

07/Jan/2022

Schon ok
Man erwartet erstmal mehr, sehr klein.. Aber erfüllt seinen Zweck.. Ob es Sinn macht.. seindahin gestellt..

05/Jan/2022

Super
Funktioniert hervorragend. Einfach toll

31/Dec/2021

Alles ok
Samen rein so wie in der Beschreibung beschrieben und hatte bisher noch keine Samen die nicht gekeimt haben ; insofern eine lohnende Sache . Hab bisher die Samen im WC Papier keimen lassen was bei Auto Pflanzen nicht das wahre ist so wie ich feststellen musste .

29/Dec/2021

Nice
It works

16/Dec/2021

"XxX"
Ribadisco,prodotti di qualità e il personale educato professionale ti aiuta,

05/Nov/2021

Braucht es nicht
Habe dieses produkt selbst verglichen und auch mit meinen normalen Kokospalmen waren am Schluss schneller und schöner gekommen. Spart euch das geld

21/Oct/2021

bien utile
5 plants sur 5 germés en 24:00, attention ne pas arroser trop, une couche de perlite sous les pots aide bien

10/Oct/2021

Beste Keimung
Einfach nur top

03/Sep/2021

facile et pratique
très simple d'utilisation

22/Aug/2021

Fine product
Good quality, fair price. Everything worked well.

24/Jul/2021

Supper Sache
Ich bin sehr positiv überrascht, obwohl ich am Anfang eher skeptisch war. Die Luftfeuchtigkeit ist gut darin, Die Temperatur ist auch immer gut abzulesen,das ein und ausschalten der Lampe funktioniert auch problemlos. Für mich ganz es nur ein kleines Manko und das ist der Aufbau,die Plastikscheiben anzubringen ist ganzschön friemelig, ansonsten aber ein sehr gutes Produkt.

22/Jul/2021

handig
Super handig om zaadjes te laten ontkiemen samen met de Propagator Pro 2 (ik doe het het liefst eerst even een n8 in glaasje water van te voren zodat de zaadjes goed vocht hebben opgenomen) Zo hoef je nooit het kiemetje aan te raken en kan je het makkelijk overpotten

30/Jun/2021

TOP!
Super gut, super einfach, eine echte Erleichterung

24/Jun/2021

Bon produit
Simple d'utilisation. Permet un beau rendu

29/May/2021

au top
fonctionne a merveille

26/May/2021

Top
100 % Erfolg!

25/May/2021

100% Keimungsrate bei 4 von 4 Samen
4 von 4 Samen 100% Keimungsrate innerhalb von bis zu 5 Tagen. Für mich hat es sich als sinnvoll erwiesen, die Samen NICHT tief einzubuddeln und NICHT mit Erde zu bedecken. Genau so wie es in der Anleitung beschrieben ist. Es genügt tatsächlich, sie nur wenige Millimeter tief in das Loch im Mini-Topf zu drücken, sodass sie leicht umschlossen sind, aber man sie von oben noch sehen kann. In der Natur liegen sie ja normalerweise auch nur oberflächlich auf der Erde. Außerdem befriedigt es die Neugier, wenn man direkt sehen kann, was mit den Samen passiert. Dann habe ich sie morgens und abends nur ganz vorsichtig von oben und unten mit der Sprühflasche gewässert, sodass sie es möglichst feucht, aber nicht nass haben. Natürlich muss man trotzdem hoffen, dass man gute Samen erwischt hat und etwas Glück gehört auch dazu. Manchmal keimen sie eben nicht und man kann gar nichts dafür. Und die Keimung kann auch schon mal eine Woche dauern. Aber ich denke, mit diesen kleinen Smart Start-Töpfchen kann man sehr gute Voraussetzungen zur Keimung schaffen und sich damit den ersten Schritt einfacher machen.

21/May/2021

100% germination
I use these with the Propagator Pro 2 available here at Zamnesia. I am a seasoned grower, but despite my skill level, I was struggling with Root-It plugs. From the same batch of seeds, they all sprouted perfectly with this kit. The difference was night and day. I won't be using anything else from now on. Even if you think you've got your germination game on point, this will take you to the next level. Perfect for beginners and pros alike.

20/May/2021

good
and simple

20/May/2021

Bon produit
Très bien pour faire gérmer . Bon produit

18/May/2021

Hat super Funktioniert
Innerhalb kürzester Zeit haben die Dinger ihre Aufgabe erfüllt.

17/May/2021

Supwr
Alles für einen guten Start. Wird garantiert wieder gekauft.

15/May/2021

cool
3 graines sur 5 poussent, elles poussent même plutôt bien.

13/May/2021

Excellent seed starter kit
Nice and small blocks to start off seeds in. With these you will have sufficient humidity to sprout the seeds, avoiding over watering them. It also avoids delicate handling and potting of sprouted seeds, as the roots develop in the block during the first days, and can safely be managed without having to use tweezers etc. The modules are about half the size of Root-It and Root-Riot products, and the 20 pods can be be divided into whatever size necessary. The are packed in a zip-lock bag so that they will store well after having cut what you need from the board. Following the instructions and using a propagator, germination of 4 seeds completed in 2 days with 100% success rate. It could hardly be any better. Easy and quick solution for the lazy grower and for inexperienced growers who are uncertain. Couldn't be easier. Absolutely worth the money!

08/May/2021

indispensable pour faire germer sans risque
je l'utilise depuis des annees pour faire germer taux de reussite elevee ( 100 % ) germe en 2 ou 3 jours

05/May/2021

Super Smart Start !
Je recommande fortement ce kit de germination. Simple d'utilisation, cela permet d'assurer le départ des graines et de booster la première pousse et le système racinaire. Réussite sur ce kit: 18/20, germination 1 à 2 jours, plantation 7 jours. J'ai même remis une graine à la place d'une non-germée et cet nouvelle est sortie comme les précédentes. Donc 19/21. On a toujours peur de rater le départ, surtout au prix que coûtent ces graines. Avec ce kit, c'est idéal et les plantes sont prêtes pour la suite des opérations :) Merci à l'équipe Zamnesia!

01/May/2021

Gebruik leek makkelijk.
Ik heb de instructies gevolgd maar helaas kwamen 4 van de 6 zaadjes niet uit. Ik had er een propagator bij maar het resultaat was dus 33%. Ik vond het idee wel makkelijk maar denk nu dat ik toch gewoon in een glas water ga ontkiemen.

28/Apr/2021

super start
Alles was der Samen benötigt. Zusammen mit dem mini Gewächshaus, Ideales Keim Medium

25/Apr/2021

Satisfait
Fonctionne très bien pour lancer les graines dans leur premiers pas, je recommande !

25/Apr/2021

NUL
Première fois que je l'utilise, fiasco total ! 0% de réussite sur 12 graines, le terreau semble vieux et ne plus détenir ses fameuses vertus !

21/Apr/2021

It's very helpful
It's very easy to handle and helps a lot at the beginning!

20/Apr/2021

best
Excellent pour débuter

18/Apr/2021

zozo
Ondanks het feit dat ik de instructies nauwgezet heb gevolgd zijn er maar 4 van de 6 zaadjes uitgekomen. Balen voor een beginneling dus...

17/Apr/2021

Kit démarrage
Top pour booster les débuts

10/Apr/2021

Niet heel erg praktisch maar goed genoeg
Ik ben zelf geen voorstander van deze techniek omdat er altijd zaadjes met het worteltje omhoog ontkiemen en door de stevige structuur van de plugs kan deze zichzelf niet corrigeren, wat in aarde wel lukt. Dat levert een hoop gepruts en gedoe op. Ontkiem percentage is wel erg goed vandaar 3 sterren.

09/Apr/2021

Superstart!!!
I ordered 20 seeds and put them in the smartstart kit, every seed came up, how wonderful to see, thank you Zamnesia, real good job, fast shipping, make my third order in a few days, the second one came today (the package has benn slightly opened by someone, only strange thing, and this time tooks longer but only because of an system error that wrote the districtname between streetname and number, that's why the carrier needed 1 more week and some phonecalls, but in the end I'm very happy and it's not zamnesias fault!) Everytime again!

01/Apr/2021

Perfecte ontkiemkit
Perfect om het zaadje te ontkiemen en vervolgens in de pot te zetten!

27/Mar/2021

Efficace
Rapide et efficace. J'ai utilisé un paquet complet la saison dernière. 100% de germination

20/Mar/2021

super
super Sache Erfolg garantiert

20/Mar/2021

Fonctionne
Trop petit que pour faire des boutures, germination qui a eu du mal à être homogène. J'aurai peut-être du les recouvrir de terre pour qu'elle soit plus dans le noir

18/Mar/2021

Helps a lot.
I store them in the freezer.

06/Mar/2021

Handy !
Heel makkelijk om te gebruiken. En niet duur...

05/Mar/2021

Très pratique
Parfait 100 % de réussite. Facile et pratique

20/Feb/2021

top
grave pratique et pas si cher

10/Feb/2021

schnelle Lieferung
noch nicht getestet, macht aber einen guten Eindruck

26/Jan/2021

Smart start
Perfect om te starten.

11/Jan/2021

Perfecto
Perfecto, planté 12 semillas y solo una no llegó a brotar, el resto todas genial con el propagator pro 2.

06/Jan/2021

Einfacher gehts nicht
Damit klappt die Aussaat problemlos.

05/Jan/2021

Excellent produit.
Taux de germination de près de 100%, et ça ne coûte pas cher ! Ça vaut vraiment le coup.

03/Jan/2021

FEHLER in der BESCHREIBUNG
Leider ist in der Beschreibung ein Fehler, wegen dem bei mir 8 von 20 Samen eingegangen sind. Man muss die Löcher für die Samen auf ca. 5mm vergrößern, sodas der Samen locker im Loch liegt und nicht feststeckt. Wenn man die Löcher nicht vergrößert kann es sein, dass die Wurzel oben aus dem Samen wächst und vertrocknet. Das Produkt selbst ist top, es keimten bei mir alle 20 Samen. Kann ich nur weiter empfehlen.

30/Dec/2020

Toujours efficace
Commandé plusieurs fois, et toujours efficace

27/Dec/2020

Very effective!
raccomanded

23/Dec/2020

Very effective!
The smartstart does its job very well!! As a fist timer, all seeds came out ! (Zamnesia seeds!)

01/Dec/2020

Justin
Top, nu 2 keer besteld, werkte beide keren 100%!

24/Nov/2020

Peoblem
Germination problems..follow the instructions but...3 on 8 seeds are germinated

09/Nov/2020

Super
Fonctionne très bien et en très peu de temps

14/Oct/2020

must have with a propagater
works perfectly, just 4 days untill the seed starts to grow!

12/Oct/2020

top product
zaadjes kwamen na 3 dagen uit

24/Sep/2020

Werkt perfect
Handig in gebruik

04/Sep/2020

Definitiv brauchbar!
Ich finde es in Verbindung mit dem Propagator einfach mega entspannt die Samen keimen zu lassen. Die Keimrate liegt bei mir ca. bei 95%.. es kommt also äußerst selten vor, das ein Samen nicht keimt. Da liegt es dann wahrscheinlich wirklich am Samen selbst und ist auch okay.. Achtet nur darauf die Plugs nicht zu nass werden zu lassen. Wenn da was abtropft, ist es schon zuviel! Ganz leicht feucht und in den ersten Tagen nur eine Luke auf! Viel Erfolg!

01/Sep/2020

Kein Erfolg
Nicht zu emfählen ,mit Watte Pads funktioniert es besser , 13 von 13 Samen nicht gekeimt und die Anleitung wurde genau befolgt enttäuschend...

27/Aug/2020

Smart Start
Amazing little starter pots that work so very well !

26/Aug/2020

Use upon receipt. Do not store
Containers come with a little moisture, so they should be used as received. If you store them it is possible that they become contaminated with fungi and your seeds will never germinate. Be very careful with that

17/Aug/2020

Top smart start
Je zaadjes ontkiemen in no time samen met de propagator

12/Aug/2020

Parfait
Très pratique Il faut juste utiliser le liquide de booster de germination comme fond d'eau pour garder l'humidité des poquets les premiers jours . Et là c'est 100% de réussite

10/Aug/2020

Top
Bien reçu, pas encore essayé à voir

28/Jul/2020

Smart Start :)
Great !

16/Jul/2020

super
produit au top

13/Jul/2020

It is good!
Have my first success on germination with this kit and Propagator Pro2.

07/Jul/2020

Smart start
Produit bien reçu en très peu de temps comme d habitude.. Tres pratique pour débutant, ça peu rassurer vu le prix.. Apres le système coton humide marche autant..mais ça peu aider voir rassurer Au plaisir

06/Jul/2020

Parfait
Pratique et efficace !

01/Jul/2020

Excelente!!
Muy satisfecha con el resultado. Germinación completa en solamente 2 días!

22/Jun/2020

Great!
I tried with 1 seed so far and it germinated in 4 days, without too much care needed.

17/Jun/2020

Ottimo
Molto comodo, germinati 7 su 7

17/Jun/2020

excellent product
it really works !! D.A.

16/Jun/2020

Très pratique
Permet d'optimiser la germination, très pratique quand on est novice !

15/Jun/2020

Non male
Germinati 12semi su 14... un po' piccolo per i miei gusti essendo abituato a piantare già nel vaso finale, bene il mix incluso, le piantine nate sono forti e hanno un bell'aspetto

15/Jun/2020

tut was es soll
Schneller Versand, gut verpackt und ja was soll man groß sagen, tut halt was es soll. Auch ohne das dazu empfohlene Minigewächshaus ;)....

15/Jun/2020

Super
7 graines bien a germer...très satisfait du résultat... merci Zamnesia !!!

15/Jun/2020

2mal getestet
Ich war mit den Produkt nicht zufrieden! ich hatte wenig Erfolg!

12/Jun/2020

Macht was es soll..
aber. scheint wohl nicht mit allen Samen zu Funktionieren. Dennoch bin ich zufrieden mit den anderen Ergebnissen.

12/Jun/2020

Parfait
Colis reçu en parfait état bien protégé. Son association avec le propagator pro2 m a permis de faire germer mes graines en 3 jours.

11/Jun/2020

Top Service
Hat alles wunderbar funktioniert

09/Jun/2020

The Smart Start has never let me down!
This product works! I'v used it several times and has never let me down. It's worth every penny. Only the price could be a bit less. But compared to others it's still cheap.

09/Jun/2020

top produkt
prima ontkieming..altijd alles netjes uit gekomen.

10/Jun/2020

Déçue
Sur 3 graines seule une a germé. J'ai pourtant suivi à la lettre le mode d'emploi. Du coup changement de plan total. :(

05/Jun/2020

seul negative
bonjour j ai suivi film a lettre les graines a fleur de pots plus terminator deux une semaine si perlite manque d eau eau minerale le bandeau temp illisible a ce jour aucune graine m a germer ???

04/Jun/2020

Auf keinen Fall für automatics verwenden
Ich habe mich strickt an die anleitung des "smart" Starts gehalten (5 white monster seeds) und wie ich im nachhinein gelesen habe bauen Autos ihre Wurzeln nich weiter aus wenn sie mit dem haupttrieb anstoßen.. und das kann hier schon nach 2Tagen passieren.... daurauf wird in der Anleitung nicht hingewiesen...

01/Jun/2020

Déçu
6 graines . Une seule était foncé à la réception de la commande. Les autres très claires. Résultat une seule graine à germer

28/May/2020

War gut
Hat alles gut funktioniert. Kann man sich perfekt überall hinstellen, da das Produkt nicht viel Platz wegnimmt.

25/May/2020

Ok!
100% di semi germinati,pratico nell'utilizzo e soprattutto facile l'estrazione al momento del travaso anche in presenza di radici ben sviluppate.

25/May/2020

Faite germer l'esprit tranquil
Vous maximiser vos chances de germination. Ne prenez pas le risque d'être deçu pour economiser peu.

25/May/2020

Bon produit mais
La notice est très claire et le kit bien fourni, mais toutes mes graines n'ont pas germé. C'est peut-être par manque d'expérience. En tous cas, je préfère utiliser la technique du coton pour mes germinations.

19/May/2020

Impeccable!!!!
Ce kit est très pratique et facile d'utilisation!!!!!! Merci Zamnesia!!!!

13/May/2020

Tres Bien
Ce pack aide vraiment bien a faire partir les graines ! Je recommande a 200% si vous êtes comme moi, a avoir peur qu'elles ne germent pas. +++++++

11/May/2020

Ist echt gut zum ausbrüten. Kleines aber
Also fürs Brüten super. Einfach irgendwo hinstellen. Mal auf der Temperatur Skala gucken wie warm und fertig. Aber es kostet ca 8 Batterien pro Woche. Einziges kleines Manko ist das die " Scheibe" immer beim öffnen unten anstatt oben raus sprung. Aber wäre es öfters benutzt will wäre es ratsam es auf eine Netzteil umzubauen.

11/May/2020

Plutôt content
Bon j'ai eu sur 5 graines 3 qui sont sorti c'est pas fou mais c est déjà pas mal par contre c'est tout petit c'est pas énorme mais pour plus de confort je recommande fortement

06/May/2020

Works
Seeds are germinating well

05/May/2020

Super produit
Le kit a une notice bien expliquée. J'ai suivi les instructions et tout a été ok. J'ai utilisé ce kit pour 3 graines qui ont toute germées :) J'ai 2 des racines qui sont montées en l'air avant de redescendre dans la terre, les plantes s'en sortent, j'ai remis de la terre dessus, car les racines semblaient sécher. Donc, autant mettre les graines sur la tranche, ainsi, la racine partira soit sur la gauche ou soit sur la droite, mais pas en l'air.

04/May/2020

Cheap but Quality Product
Easy to use. 6/6 success rate so far. Very happy with it.

24/Apr/2020

OTTIMO PRODOTTO
Come prodotto è molto funzionale,rapporto qualità prezzo molto buono,facile da usare,lo consiglio a tutti quanti,Zamnesia top!!!

22/Apr/2020

80 % Aufgegangen
Es sind nicht alle meine Samen Aufgegangen circa 80 % . Aber ich bin Zufrieden jedoch nicht Überwältigt .

20/Apr/2020

Smart Start
Facile da usare, e i semi nascono tutti, fino ad ora ne ho usata la meta con una riuscita del 100%, unica cosa c'è da stare attenti al senso del seme.

16/Apr/2020

Bof
Inutile si germination faite en papier, en 2 jours faut les transférés dans son pot final. Et SVP écoutez pas la recommandation pour les arroser au debut, sinon les graines noyer a coup sur. Donc bref si vous avez des mini pots pour le debut apres germination c mieux car les graines ne manquent de rien pour au moins 6 jours.

15/Apr/2020

Tout petits rikiki et pratique
Le kit est rikiki. Les pots sont vraiment petits, mais la taille est adaptée. Il y a une note d'explication que j'ai suivie. Sur les 4 graines, les 4 ont germé. Franchement un excellent investissement, car ça donne une bonne méthode dans de bonnes conditions. Autant s'équiper pour faire les choses bien ceci dit, j'ai 2 des racines qui sont montées en l'air avant de redescendre dans la terre, les plantes s'en sortent, j'ai remis de la terre dessus, car les racines semblaient sécher. Donc, autant mettre les graines sur la tranche, ainsi, la racine partira soit sur la gauche ou soit sur la droite, mais pas en l'air.

14/Apr/2020

perfetto
ottimo modo per germinare i semi. Lo consiglio vivamente

02/Apr/2020

Five
Eine tolle kleine funktionierende Bis,aber bitte immer Licht verwenden! Ohne zusätzliches Licht spargelg der Nachwuchs bald... Also!!

18/Mar/2020

Smart start
Funziona bene per quanto mi riguarda, su 8 semi sono usciti tutti e 8, i primi nel giro di due/tre giorni mentre glia altri in 5/6 giorni. La spedizione nei tempi, Zamnesia ok.

16/Mar/2020

Einfach Geil
Natürlich muss der Probator dabei seien. Bin sprachlos wie einfach auf Heitzmatte stellen 21 Grad. Keine 24h alle Keimen sehe schon die Wurzel. Habe nur 8 Stück rein getan. Kann man mit Schere gut ab schneiden. Also Top !!!Natürlich auch gutes Saatgut von Zamnesia!!!die ersten 8 ausprobiert 100% Gekeimt Das Dingen ist einfach geil

16/Mar/2020

Beste Keimergebnisse
19/20 Mädels sind gekeimt und liessen sich problemlos eintopfen. Jeden Cent wert, wird wieder mitbestellt !

26/Feb/2020

Einfach und gut
Mit diesem Set ist es mir gelungen, den Samen gut keimen zu lassen und gesund und gestärkt umzutopfen.

18/Feb/2020

Fantastici
Per ora ne ho usati 3 e i semi sono nati in meno di 48h

12/Feb/2020

Smart Start
hoi heb de samrt pots met de germeator gekocht was niet zo een sukses. maar 4 van de 20 wamen uit.

03/Feb/2020

Loved it!
So far its been 9/10 rate (that one was an old seed), so I think it does its work!

06/Jan/2020

Working fine
I really don't know what problems some people here have. The germination with this set is as easy as a knock out. Sure there are better solutions, but not many and not for that price!

16/Dec/2019

Einfacher gehts nich
Einfacher gehts nich Sehr zu empfehlen

11/Dec/2019

Super
Mein erstes Mal und gleich 7 von 7 gekeimt und nach 4 Tagen schon 3 cm unter Spider Farmer LED. Super Smart Start ;-) Danke!

19/Nov/2019

top!!!
funktioniert sehr gut!!!!

04/Nov/2019

De klant heeft het product beoordeeld maar geen review geplaatst

31/Oct/2019

Nice tool
With the prescription and the germination booster the seeds poop after 36 h well healthy and are ready to root.

16/Oct/2019

Verschillende planten.
Van de 13 zaadjes kwamen er 10 uit. Omdat ik er 10 wou neerzetten had ik in principe genoeg. De planten groeide als kool. Ik heb ze 3 weken laten voorgroeien eer dat ik de planten in de bloei zette. Wat mij meteen opviel, is dat er erg veel blad aan de planten groeide. Deze heb ik voor een deel weggeknipt zodat de onderste topjes wat meer licht kregen. in principe ging alles perfect totdat ik in de 6e week zag dat niet alle planten hetzelfde waren. Twee van de 10 waren andere planten. in week zeven ontdekte ik toprot in mijn zo goed verzorgde planten. Dat was echt balen en tevens onbegrijpelijk. Wat had ik fout gedaan !!! Ik werk met een airco die koelt als de lampen aan zijn en verwarmt als de lampen uit zijn. Omdat een airco er ook voor zorgt dat er weinig vocht wordt uitgeblazen en ik een waaier op mijn planten heb staan is dit een vreemd verschijnsel. de twee planten van een ander soort hadden geen last van deze schimmel. Ik ga er van uit dat deze twee planten meer bestendig waren voor deze schimmel. Ik denk dat ik nog 600 gram van mijn 8 planten heb. die twee anderen doen er beduidend langer over eer dat ze geknipt kunnen worden. Omdat ik de planten er goed uitzagen in de 6e week heb ik wederom dezelfde zaden besteld. die staan momenteel in de groei. Ik hou jullie op de hoogt of ik wederom verschillende planten heb en of ik weer schimmel krijg in deze Sourse Diesel planten.

02/Oct/2019

Don't wait too long...
after six months the pots started to mould - could not use anymore...

13/Sep/2019

Lohnt sich immer
Tempo oder Wattebausch klappt zwar auch..das ist aber angenehmer und man kann den Zeitpunkt nicht verpassen

04/Sep/2019

Parfait
Très facile a utiliser, les graines y germent facilement, attention à ne pas faire un surarrosage au risque de les tuer !

26/Aug/2019

Good starter package
100% succes!

26/Aug/2019

Tevreden
Doet wat het moet, 4 van de 5 zaadjes zijn perfect ontkiemd.

19/Aug/2019

Great for Beginners
You can rely on Zamnesia to provide good quality goods and service. Definitely worth it

05/Aug/2019

Good natural product
Good natural priduct

30/Jul/2019

smart start
Funktioniert perfekt.

26/Jul/2019

Nicht gekeimt
Nur 3 von 6 Samen gekeimt

25/Jul/2019

Great price, great product
Worked well, easy to use and cheap.

17/Jul/2019

Geburtshilfe mal anders
,.,für alle Sorten, die sicher keimen sollen geeignet.Samen berührungslos im Loch versenken, n Schluck warmes Wasser und schon läufts. Bei mir hates gut funktioniert..

27/Jun/2019

Utilisation simple et efficace
Fonctionne parfaitement, 100% de réussite, je recommande ce produit.

24/Jun/2019

De zaden komen uit
Tja, hoe beoordeel je iets als dit... Met een dubbelblind onderzoek met n>100. De zaadjes kwamen keurig op, dus slecht is het niet ;-)

10/Jun/2019

Top Qualität
Super schnelle Lieferung am selben Tag noch gepflanzt und 4 Tage später kommen die Sprößlinge schon

06/Jun/2019

Starke Starthilfe
Haben mir, besonders mit den beiliegenden Nährstoffen sehr gut geholfen, um die Samen zu keimen.

01/Jun/2019

Ok !
Wenn man verstanden hat was der Samen zum Keimen braucht sind die Töpfchen überflüssig !! Aber trotzdem ganz nett gemacht und für Anfänger echt gut !!!

31/May/2019

Simple & Efficace
Toutes mes graines sont bien parties grâce à ce kit, top

27/May/2019

Schrott
7 von 7 Samen kaputt. Richtige scheiß Erde drin. Keine gute Aufzucht Erde und unverschämt teuer

09/May/2019

goed product
Al verschillende keren dit product gebruikt. zeer gemakkelijk te gebruiken en tot nu toe steeds 100% ontkieming van de zaadjes.

01/May/2019

Smart star
Bon moyen de faire germer ces graines, petit mais efficace ! Je le recommande vivement...

25/Apr/2019

Mit Propagator Pro 2: Keimrate 40%
Mit diesem Experiment war ich (letztes Jahr) überhaupt nicht zufrieden, da nur 8 von 20 Samen in den fingerhutkleinen Töpfchen zur Keimung gekommen sind. Vielleicht lag es auch am Propagator Pro 2, den ich dazu verwendet hatte. Ich ließ die Lüftungslöcher zwar offen, aber am Ende lässt sich schwer sagen, woran die mangelhafte Keimung trotz erstklassiger Samen lag. Mich wundert es ein wenig, dass in dem Fehlervermeidungs-PDF, welches ich nun zu meiner ersten Samenbestellung bei Zamnesia erhalten habe, von Zimmergewächshäuschen zur Anzucht aufgrund der zu hohen Luftfeuchtigkeit und der zu geringen Luftzirkulation dringend abgeraten wird. Da widerspricht man sich ja selbst gehörig, wenn man trotzdem Smart Start und Propagator Pro 2 anbietet. Übrigens wird in dem PDF auch von Jiffies abgeraten, allerdings hatte ich mit denen noch nie echte Probleme. Jedenfalls: Weder mit Jiffies noch direkt in Anzuchterde hatte ich jemals zuvor (seit 4 Jahren) schlechtere Keimraten als 80%, also werde ich Smart Start und den Propagator Pro 2 wohl sicher nicht mehr verwenden. Die 2 Sterne gibt es für die diskrete und unkomplizierte Abwicklung sowie die schnelle Lieferung - das war wirklich absolut in Ordnung! Ich hoffe nun, dass ich mit den Samen von Zamnesia glücklicher sein werde als mit den beiden hier beschriebenen Produkten.

04/Apr/2019

haben gut funktioniert
1A , worked well even without the additional Dome thingy

27/Mar/2019

Facilissimo. Nessun errore in germinazione
Messi in una scatola usata a mo di servetta con luce di abate jour sopra. Germinati 10 su 10.

25/Mar/2019

Super Produkt
Ich habe dieses Produkt schon öfters gekauft und bin wie immer sehr zufrieden. Ich benutze es zusammen mit dem propagator, funktioniert perfekt.

18/Feb/2019

For the lazy people
I'm lazy

04/Feb/2019

Perfekt
Super Teil alles genau wie im werbevideo.

04/Feb/2019

Hat super funktioniert!
Hatte vorher Samen öfters zwischen feuchtem Küchenpapier quellen lassen, hat auch recht gut funktioniert. Letztes Jahr hatte ich etwas Pech mit einigen Automatik Samen, darauf habe ich dann das smart start kit verwendet und es lief gleich besser.

23/Jan/2019

Perfekt
vielen Dank für die schnelle Lieferung;

18/Dec/2018

100% de germinations!
Très facile d'utilisation.

30/Oct/2018

Perfect
Easy to use !

14/Sep/2018

Klappt super
Funktioniert tadellos

12/Sep/2018

Great Product
With the propagator pro 2, all the seeds germinates fast and well.

20/Aug/2018

Easy to handle and works good
The product comes with clear instructions and seeds grow well and fast in the Smart Start.

20/Aug/2018

für's erste.....
.... wirkt's ganz gut, 6 von 12 samen sind was geworden. das einzigt verwirrende, für mich als jemand der's nur mal ausprobieren möchte /ohne ahnung, ist die Anleitung per Youtube clip anders als die schriftliche Anleitung von zamnesia. das video ist in englisch und sehr knapp vom Inhalt, die zamnesia Beschreibung viel eindeutiger und verständlicher........ ich habe mich leider ans video gehalten

20/Aug/2018

A charm
This little thing just works as a charm. Easy to use, handy in its functionality and the results are there to show for it. Great little thing

20/Aug/2018

the best to germinate seeds
easy to use with the propagator

08/Aug/2018

Helpful
It is a good starter kit for beginners. Almost all seeds germinated there. Make sure that seeds receive direct light and do not bury under soil; that eases a lot the germination ;-)

02/Aug/2018

Top
Jammer dat dit niet bij de Propogator Pro 2 inbegrepen is, want zonder dat heb je hier niet zo veel aan. maar ben verder erg tevreden naar het resultaat ik heb het overigens gebruikt met de propogator. AANRADER

27/Jun/2018

Top in combinatie met de propogator 2
Ontkiemd super, score tot nu toe 100%

07/Jun/2018

Super!
Für mich die beste Methode zum Keimen. 10 Samen, 3 unterschiedliche Genetiken von 3 unterschiedliichen Breedern und alle gleichzeitig extrem schnell gekeimt. Nach 4 Tagen war es bereits höchste Zeit für die richtigen Töpfe :)

02/Jun/2018

Top
Top spul, vergeet alleen het zakje voeding niet wat eronder geplakt zit!

25/May/2018

Werkt fijlloos voor ontkiemen
even een paar daagjes binnen gehad omdat het buiten onder de 10 graden kwam 's nachts en meteen naar buiten bij de eerste groene topjes !

30/Apr/2018

Perfect i.c.m propogator
Dit product vind ik top i.c.m de propogator 2. Ik heb wel eens zonder propogator geprobeerd, maar dat ging niet goed. Als je ontkiemen makkelijk wil maken en geen stress kies dan voor dit product

21/Mar/2018

Top
Sehr schnelle Versand,danke.Ist einfach zu keime

13/Mar/2018

Easy to start with
As a newbie I found this kit very easy to start with.

10/Feb/2018

Ottimo
Germinano al 100%

09/Feb/2018

Great start
Haven't had a none starter since using smart start. A must for every grow. With great service as always from zamnesia and fast, discreet shipping too

09/Feb/2018

Prachtig produkt
Eevoudig produckt met top resultaat.

06/Feb/2018

Top
Sehr einfache Art Samen keimen zu lassen!

27/Jan/2018

Germination made easy
Couldn't be simpler - had some issues in use of kitchen roll then replanting... This fantastic kit takes the hassle out of getting seeds going. When it arrived I was hesitant as it looked small - small yet highly effective. Strongly recommend this product with the mini-propagator box.

17/Jan/2018

I does what it says!
All seeds (Blueberry, Caramel) came out. Easy to use. Great product. I recommend!

12/Jan/2018

Doet wat moet
Is wel kleiner dan gedacht Doet wat moet je moet wel de smart start erbij bestellen en zodra ze uitkomen rap verpotten want de led is niet sterk genoeg anders gaan de zaalingen strekken wat je niet wilt

14/Oct/2017

Site sérieux et bonne comunication
J'attends de voir les résultats.

10/Oct/2017

Klasse Produkt !
Mein zweiter Smart Starter und gebe M. W. recht, dass man nicht so viel Wasser nehmen sollte. Diesmal mit Probagator 2 habe ich nur soviel Töpfchen ausgeschnitten wie ich brauchte. Dann einfach den Samen oben drauf gelegt und nur ganz leicht angedrückt. 1 bis 2 Tage später als ich sah, dass es zu trocken wird, habe ich mit einer pipette 2-5 Tropfen Wasser in jedes Töpfchen. Samen ging auf und der Fuss suchte gleich die Erde und bohrte sich rein.

10/Oct/2017

Everything really ok! Recommended
Everything really ok! Recommended

04/Sep/2017

Empfehlenswert!
In der Videoanleitung wird mir persönlich zu viel Wasser verwendet - ich selbst habe hervorragende Ergebnisse mit sehr wenig Wasser erzielen können. Die Keimung mit dem Start Start funktioniert also prächtig.

29/Aug/2017

Excellent
Fantastique

11/Aug/2017

Perfect
Netjes geleverd!, keurig verpakt. Top product, alleenmaar positief!!

08/Aug/2017

Top product!
Super makkelijk en alle zaadjes zijn uitgekomen.

08/Aug/2017

Kan niet meer zonder
Geen gezeur of gekloot. Werkt altijd en perfect.

02/Aug/2017

echt top
Absolut fantastisch man hat nicht viel arbeit und alle samen haben bis jetzt gekeimt , jederzeit wieder

08/Aug/2017

competent et serieux
service rapide produit de qualite

13/Jun/2017

Great product
Works as described

13/Jun/2017

Veramente un ottimo prodotto
Ho utilizzato per la prima volta questo prodotto,profano nella coltivazione della cannabis,e devo dire che ho avuto non buoni,ma ottimi risultati!!! Lo consiglio!!!

09/Jun/2017

Mr
comfortable to use, price could be cheaper

02/Jun/2017

GREAT
so nice and easy to use had 3 seeds in the smartstart an dall 3 came out after 2 days

29/May/2017

Surpris
Première utilisation super content !!! Bien suivre le tuto et tout fonctionne

18/May/2017

facile
facilite la germanisation, avec le tutoriel impossible de se tromper! 10/10

17/May/2017

Daumen hoch
Ist ok bißchen klein aber macht was es soll :)

02/May/2017

☺
ze gaan als een speer

26/Apr/2017

happy
ontkiemen en kweken is nog nooit zo makkelijk geweest. volg de handleiding en na 3 a 4 dagen komen de zaadjes uit.

19/Apr/2017

Parfait
Rien à dire produit parfait je recommande au débutant, une fois bien fait dans les règles, ce produit fonctionne parfaitement

14/Apr/2017

Efficace
Avec ce système toutes mes graines ont germé !! Je recommande !

20/Mar/2017

Excellent
Livraison rapide et très discrète. Produit intéressant avec visiblement un bon taux de succès. Seul regret : il n'y a qu'un seul sachet de "stimulant", il faut donc mettre la quantité "au jugé" suivant le nombre de pots.

13/Mar/2017

Nikel 5/5 ! :)
Livraison rapide 4-5 jour je croie , sinon sur 5 graines les 5 on germer ! mes j'ai laisser a germer dans le sacher smart start pour faire comme une "serre" est rien a dire !

08/Feb/2017

Très pratique
Très bon mélange équilibre avec bactérie et champignon afin d'activé la vie biologique. Très pratique et bon rapport qualité prix

29/Aug/2016

funziona!
perfetto! consiglio solo di bagnare appena un attimo i vasetti e non inzupparli! o alcuni semi ne risentiranno!

02/Aug/2016

perfekt und sein geld wert
perfekt und sein geld wert, wollte urlaub,hatte sie in die erde von start smaRT und eines in kokos, als ich zurück kamm nach einer woche in juli,perfekten trotz trockenheit. es ist ein perfekter einstieg für paar euro mehr, man hat hier genug enzyme und töpfe für mehrere anläufe.egal ob erde oder kokos perfekt.liefert den idealen start für die zukunft.danke zamnesia ist seid die besten lol

04/Jul/2016

Een snelkiemer
Het product zeer snel en goed verpakt ontvangen, de zaadjes kiemden zeer snel , op 5 dagen stonden ze reeds allemaal reeds op een 4cm hoogte.

28/Jun/2016

:)
Fast and dicrete delivery. I used just 2 pieces of the smart start for 2 seeds under the same conditions. One germinated, the other didn't. But i wouldn't personally blame it on the smart start but the other seed. The only con might be, that the stimulator mix is in one bag, so it's not that comfortable to germinate only few seeds at a time, since you have to portion it yourself.

29/Mar/2016

Marche très bien
Première fois que j'essaye sur 3 graines, et 100% de germination!! Parfait!!

02/Feb/2016

Passt
Unterstützt die Keimung!

20/Jan/2016

Gut und praktisch
Kann smart start nur empfehlen. Vorgedüngt und super zum schnellen keimen.

13/Jul/2015

:)
hat super funktioniert, Versand wie immer problemlos und schnell.

09/Jun/2015

Top
alles gut geklappt nach 6 tage habe ich umgetopft gute anzucht mittel ;D

22/Apr/2015

vqchefkoch- Volker Q.
Gekauft und gleich ausprobiert. Super Sache.Einfacher geht es nicht!

22/Apr/2015

Idéal pour la germination
Super produit et facile a utiliser regarder les videos ;)

06/Apr/2015

j'adore !
produit fabuleux, jai planté 3 graines, et les 3 ont germé trés vite et dans de bonnes conditions, peu cher et livré avec un sachet de mixture speciale pour faire pousser, je recommande !

11/Feb/2015

:)
super pratique pour la germination :)

28/Nov/2014

goed produckt mooie prijs
Mooi verpakt

18/Jun/2014

handig makkelijk
Werkt goed in samenstelling met.de propogator als het.zaadje.zich.laat.zien Dan druk je aan de onderkant hem.er zo met zaadje uit wel een.beetje oppassen met het worteltje en.dan.de pot in vet relaxed,

08/May/2014

Recomandé
Les smart star + propagator pro = 100% de germination, mes 20 graines ont germées :)

02/Sep/2013

top
10/10 seeds strarted in 36h,very easy to start .

17/May/2013

Fast germination guaranteed!
Fast, 9/10 germinated, easy to work with. 5*z

01/May/2013

Great help!
This is such a great help for some people having problems with germination! Great product!

Je kunt geen review plaatsen omdat je dit product niet hebt gekocht
Delvaux Geoffrey
2023-07-15 13:44:44
Als ik 1 pak koop en heb maar 1 bakje nodig, wat is de beste manier om de rest te bewaren en op te bergen?
administrator
Hi Geoffrey, Bedankt voor je vraag! De delen van de Smart Start die je niet gaat gebruiken zou je af kunnen snijden en bewaren in de verpakking van het product.
Stel een vraag
Beperkingen
Houd er rekening mee dat als je land niet op onze algemene verzendlijst staat, we er geen artikelen van onze website naar kunnen verzenden. Bekijk hier de lijst voor meer informatie: Bestellen & Verzenden
Video (1)