Over Serious Seeds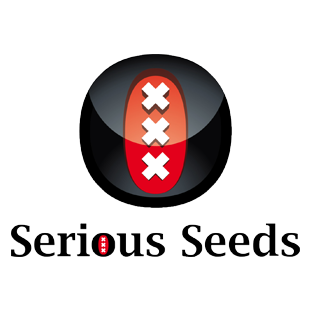 Serious Seeds staat bekend om cannabis zaden van topkwaliteit, dus laten we eens wat tijd investeren om meer te ontdekken over deze zadenbank.

De oorsprong van Serious kan worden herleid naar een man: Simon, kweker en oprichter van de zadenbank. Simon zat op de universiteit in Amsterdam, waar de eerste stappen werden gezet om uit te groeien tot een meesterkweker. Hij studeerde biologie en had nog nooit cannabis gerookt, omdat hij een afkeer had van tabak, wat in Nederland de standaard is in een joint. In 1986 ontdekte hij echter de wonderen van het roken van cannabis in haar zuivere vorm, waarna zijn leven voorgoed veranderde.

Vanaf dit moment maakte Simon het zijn missie om een persoonlijke bibliotheek aan te leggen met cannabis zaden, waarbij hij een groeiend aantal contacten gebruikte om zeldzame en interessante variëteiten te verkrijgen. Toentertijd was het niet zo gemakkelijk de genetische achtergrond te bepalen, want er was geen internet waardoor algemene kennis eenvoudig kon worden verspreid. Dit leidde dus tot vele experimenten, zodat de beste exemplaren uit deze zaden konden worden gekruist en gebruikt om een persoonlijke voorraad aan te leggen.


Hoewel hij toentertijd als leraar werkte op een middelbare school, zorgde zijn reputatie ervoor dat Alan Dronkers van Sensi Seeds contact opnam, om te vragen of Simon bij hen wilde komen werken als kweker. Na een tijdje te hebben gewerkt voor Sensi Seeds, besloot Simon zijn eigen pad te kiezen, waarbij hij een aantal gezamenlijke projecten deed met andere kwekers, die resulteerden in de beroemde klassiekers AK-47 en Chronic.

Uiteindelijk richtte hij in 1995 zijn eigen zadenbank op en Serious Seeds was geboren. De zadenbank werd een directe hit en won meerdere prijzen voor klassiekers als Kali Mist en de eerder genoemde AK-47 en Chronic. Hun cannabis was in alle coffeeshops van Amsterdam verkrijgbaar en was favoriet bij veel klanten.

De focus van Serious Seeds heeft altijd op de kwaliteit gelegen. Ondanks hun populariteit heeft Serious Seeds zich altijd ingespannen klein en toegewijd te blijven, zonder de nadruk te leggen op grote commercialisering, het jaarlijks produceren van nieuwe soorten of deelnemen aan elke wedstrijd. In plaats daarvan hebben zij hun tijd besteed aan zaken die ertoe doen: Het produceren en verfijnen van hun selectie met een aantal van de beste cannabis zaden op de markt.
Verpakking van Serious Seeds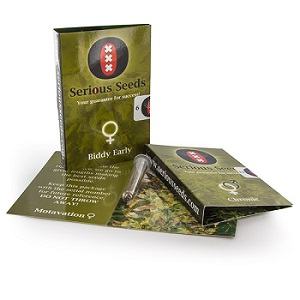 Serious Seeds neemt niet alleen hun cannabis zaden serieus. Ook hun klantenservice vinden ze enorm belangrijk. Daarom kan je erop vertrouwen dat de verpakkingen voor hun zaden zorgvuldig zijn samengesteld. Elke set zaden is verzegeld in een hard plastic buisje om de veiligheid te garanderen. Dit buisje wordt vervolgens verpakt in een harde verpakking die de zaden in het donker houdt en waarop ook de informatie over de soort te vinden is.

Serious Seeds' cannabis zaden zijn verkrijgbaar in zowel regular als feminized varianten, in hoeveelheden van 6 voor feminized en 11 voor regular.
---

---