Wat is Kanna?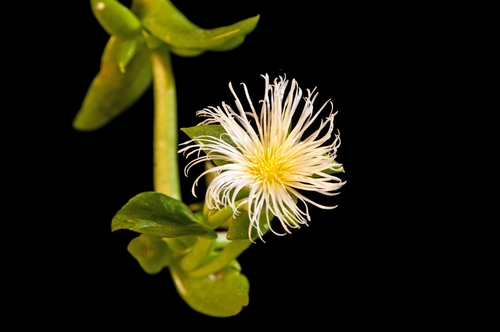 Kanna, ook bekend als Channa en Kougoed, is de gedroogde en/of gefermenteerde plantenmaterie van de Sceletium tortuosum plant. Het kan in het wild gevonden worden in de Kaap regionen van Zuid-Afrika en het wordt al eeuwen gebruikt als traditioneel inheems medicijn. Hoewel Kanna uitsluitend voorkomt in Zuid-Afrika, is ze een eenvoudig te kweken plant die bijna overal gekweekt kan worden, zolang ze maar naar binnen gehaald wordt wanneer het te koud wordt.
Kanna heeft de interesse gewekt van farmaceutische bedrijven, waarvan sommigen bepaalde rechten hebben verkregen van de Zuidafrikaanse overheid. Op dit moment wordt ze dan ook onderzocht. Kanna kan mogelijk in de toekomst worden verkocht als een vrij verkrijgbaar medicijn.
Kanna wordt traditioneel gebruikt als een stemming verbeteraar en om angst en stress te verlichten. Dit leidde tot een meer algemeen gebruik in westerse landen als anti-depressiva. Haar anti-depressieve kwaliteiten komen van haar natuurlijke vermogen om het SSRI mechanisme te kopiëren, waardoor de heropname van serotonine wordt onderdrukt. Dit heeft Kanna tot een mogelijk alternatief gemaakt voor diegenen op zoek naar een natuurlijk middel om de stemming te verbeteren.
Opgemerkt moet worden dat Kanna wordt gebruikt om acute vormen van depressie en angst te behandelen, in tegenstelling tot inname als standaard, dagelijks supplement.
Traditioneel wordt het gedroogde plantenmateriaal van Kanna gekauwd en het speeksel doorgeslikt. Het is echter ook mogelijk om er thee of tincturen van te maken, of het te roken of te snuiven.
Hoewel het niet hallucinogeen of psychedelisch is, geloven velen dat Kanna het effect van andere psychoactieve stoffen, zoals cannabis, kan verhogen en versterken. Hiervoor is geen wetenschappelijke onderbouwing, alleen meldingen van gebruikers.
Kanna is in opkomst. In de zoektocht naar een gezonde levensstijl en natuurlijke gezondheid, worden alternatieve manieren om stress, angst en depressie te lijf te gaan, meer belangrijk. Kanna heeft veelbelovende resultaten laten zien en wordt vaak aangeraden door kruidenartsen om periodes van stress te verlichten, gecombineerd met een gezonde en actieve levensstijl.