Hoe maak je een Paddestoel Sporenspuit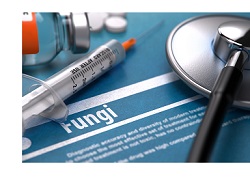 Als je eenmaal sporenprints hebt verzameld van je magische paddestoelen, is het tijd om een sporenspuit te maken. Zo een spuit bestaat in feite uit een mix van steriel water en sporen, die gebruikt worden om de ontkieming van je volgende lading paddestoelen te starten.
De hydratatie van sporen is een belangrijk proces voor het kweken kan beginnen, omdat het niet waarschijnlijk is dat droge sporen ontkiemen. Dat is een van de redenen waarom sporenspuiten zo handig in gebruik zijn; de sporen worden natuurlijk gehydrateerd en zijn klaar voor de start.
Om een sporenspuit te maken heb je nodig:
• Een sporenprint
• Water
• Steriele lege injectiespuiten
• Een glazen fles of beaker met een smalle hals
• Aluminiumfolie
• Een snelkookpan
• Een scalpel
• Pincet
• Een gaskookplaat of brander
Zorg ervoor dat je zo schoon mogelijk werkt. Indien mogelijk, werk je onder een afzuigkap.
Het proces:
1. Start met het steriliseren van je water en glazen fles. Vul de fles ongeveer voor de helft met water en bedek hem dan met folie, zodat er geen lucht bij kan.
2. Plaats de fles in je snelkookpan en verhit deze tot 15psi (1,03 BAR). Zodra je deze druk hebt bereikt, verlaag je de temperatuur en behoud de druk gedurende ongeveer 30 minuten.
3. Na 30 minuten, zet je het vuur helemaal uit en laat je je water op kamertemperatuur komen. Dit is heel belangrijk! Als je doorgaat terwijl het water nog heet is, loop je het risico je sporen te doden. Het afkoelen zou een paar uur moeten duren, maar makkelijker is het om het water een nacht te laten staan.
4. Nu kan je je sporenspuiten maken. Steriliseer je pincet en scalpel in een vlam.
5. Verwijder het folie van je fles.
6. Met je pincet neem je de sporenafdruk en houd dit boven de opening van je fles.
7. Met de scalpel, schraap je voorzichtig de sporen in het water.
8. Je moet de spuiten direct vullen. Plaats het eind van je eerste spuit in het water en vul deze. Het is een goed idee om je spuit te legen in de beker en dit proces een paar keer te herhalen. Dit zorgt voor een goede verdeling van sporen in het water; doe dit elke keer als je meer sporen toevoegt.
9. Nu je je eerste spuit gevuld hebt, moet je deze 2-3 dagen op kamertemperatuur laten liggen, zodat de sporen zich volledig kunnen hydrateren.
10. Na een paar dagen, kan je je spuiten bewaren in een luchtdicht ziplock zakje, of in de koelkast voor toekomstig gebruik. Ze blijven 2-6 maanden levensvatbaar.
Dit is alles. Nu weet je hoe je je eigen sporenspuiten moet maken. Er zijn vele variaties op deze methode en meer geavanceerde apparatuur en containers kunnen worden gebruikt om je kans op het steriel blijven van je mix te vergroten, maar het is een goede basis die een zeer goede kans van slagen heeft.
Bekijk ons brede assortiment 
Magic truffels:
Psilocybe atlantis, Magische Truffels Mexicana
Psilocybe mexicana, Magische Truffels Fantasia
Psilocybe tampanensis, Magische Truffels Pajaritos
Psilocybe pajaritos, Magic Truffels Mokum
Psilocybe hollandia, Magic Truffels Atlantis