Het gebruik van Damiana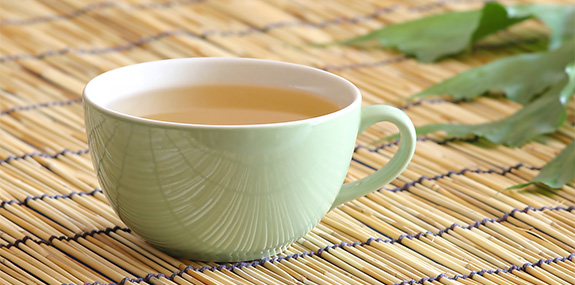 Damiana kan op een aantal verschillende manieren worden geconsumeerd, namelijk via thee, vaporiseren, roken of via alcohol.
Hoewel Damiana een aantal directe effecten heeft, zullen deze opbouwen en toenemen na een aantal weken. Zoals met vele kruiden, zal het regelmatig consumeren van kleinere hoeveelheden leiden tot langer aanhoudende voordelen, terwijl tijdige, hogere doseringen een korter, maar sterker effect leveren. Na een periode regelmatig consumeren van elk kruid, wordt altijd een pauze van een aantal weken aangeraden voor weer begonnen wordt.
Damiana Thee
De meest gebruikte methode is het verwerken van Damiana tot een thee. Thee wordt vaak beschouwd als de meest effectieve methode en kan het best een paar weken worden gebruikt, met regelmatige intervallen, om de voordelen het best te benutten.
Voor regelmatige consumptie, gebruik je ongeveer 1 tot 2 theelepels per kopje en laat dit gedurende 10-15 minuten trekken in heet water. Om een sterke, eenmalige dosering te verkrijgen, gebruik je 10-15 gram gedroogde Damiana en laat dit trekken in 1 liter heet water. Je kan de hoeveelheid water verminderen door dit door te koken, of splits de dosering in meerdere kopjes.
Voeg een beetje honing toe om je drankje wat te zoeten!
Damiana vaporiseren
Als je van vaporiseren houdt, is Damiana een goede kandidaat. Verdampen zorgt ervoor dat alle chemische bestanddelen efficiënt worden onttrokken en geïnhaleerd. De ideale temperatuur om Damiana te vaporiseren ligt op 190 graden Celsius.
Damiana roken
Dit is de minst favoriete methode om Damiana te gebruiken. Je gebruikt Damiana in een pijp of joint, zoals je met tabak zou doen. In tegenstelling tot vaporiseren of een thee, is het roken van Damiana schadelijk voor je gezondheid. Dit komt door de verbranding van de plantenmaterie. Dit proces zorgt voor veel schadelijke, giftige stoffen, die aanwezig zijn in de rook.
Damiana alcohol
De Damiana alcohol is nog een veelvoorkomende en effectieve manier om de plant te consumeren. Zo ga je te werk:
1. Mix 60g gedroogde Damiana bladeren voor elke liter wodka en laat dit tenminste 10 dagen weken.
2. Zeef het mengsel en filter het vervolgens nogmaals door een koffiefilter.

3. Neem de in alcohol gedrenkte bladeren en week deze een nacht in ongeveer 500ml water.
4. Zeef en filter de bladeren uit het water, gooi het plantenmateriaal weg.
5. Verwarm het water en voeg 200-500m honing toe. Dit los je langzaam op in het water.
6. Mix de wodka met de honing en laat dit 2-3 maanden staan. Hierna scheid je voorzichtig de alcohol en giet dit in een karaf (decanteren).