Kalium en wiet kweken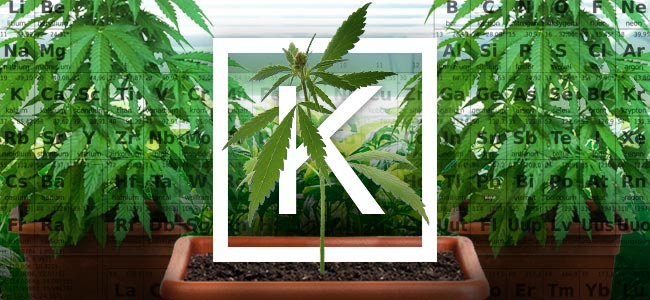 Kalium wordt in de hele plant aangetroffen, de plant heeft het nodig bij alle activiteiten die te maken hebben met (water)transport. Hieronder vallen het openen en het sluiten van de stomata (luchtgaatjes in het blad). Kalium geeft de plant ook zijn stevigheid en kwaliteit en het regelt ontelbare andere processen, zoals koolhydraatstofwisseling.
Geschiedenis
De Romeinen en Etrusken verrijkten hun grond door lokale vegetatie te verbranden. Deze vorm van roof werd in de eeuwen daarna over de hele wereld toegepast, met een enorme gronderosie als gevolg. In Nederland begon men in de jaren 30 van de 20ste eeuw gebruik te maken van houtas vermengd met rundveemest en deze methode wordt vandaag de dag nog steeds vaak toegepast.
Kalium is een zacht zilverwit metaal dat in pure vorm een hevige reactie vertoont wanneer het met lucht of water in aanraking komt. Driehonderd miljoen jaar geleden verdwenen mineralen zoals kalium, natrium en magnesium door erosie van het land en losten op in de zee. Het zeewater in de enorme zeebekkens verdampte en de zouten kristalliseerden. Zo ontstonden zoutafzettingen, zoals die in de Elzas in het zuidwesten van Duitsland.
Rond de eeuwwisseling werd in de zoutmijnen alleen keukenzout ontgonnen. Het teveel aan geproduceerd kaliumzout werd in de Rijn geloosd. Dankzij de introductie van anorganische meststoffen worden tegenwoordig naast natrium en kalium een heleboel andere minerale zouten aan de mijnen onttrokken, zoals magnesium, zwavel (in de vorm van Epsom-zout), fosfor en borium.
Kaliumtekort
Bij een kaliumtekort lijdt de plant aan verminderde transpiratie (verdamping via de bladeren). Hierdoor wordt de temperatuur in de bladeren zo hoog dat de cellen opbranden. Dit gebeurt voornamelijk aan de rand van het blad, waar de verdamping normaal het hoogst is (randziekte).
Let op: Dode bladranden kunnen ook symptomen zijn van andere vormen van verbranding, bijvoorbeeld verbranding door te warme lucht of zoutverbranding!
Het is vrijwel onmogelijk om een kaliumtekort vast te stellen aan de hand van enkel visuele symptomen. Over het algemeen is er sprake van een tekort aan iets wanneer er van een bepaald element 10% minder aanwezig is dan de hoeveelheid die het plantenweefsel nodig heeft. Boven de grond zijn de symptomen zichtbaar als kleurveranderingen en afsterving (necrose).
Voortgang van het tekort in chronologische volgorde:
In het begin zie je een gezond ogende, donkergroene (!) plant met halfglanzende bladeren, die later doffer worden.
De planten hebben vaak meer zijtakken en de stengels zijn dunner.
De punten van jonge bladeren vertonen grijze randen; deze worden roestbruin en necrotisch en krullen uiteindelijk op.
Het blad vergeelt vanaf de rand richting de nerf en er verschijnen necrotische vlekken (roestbruin) op het blad.
Het blad krijgt vaak een radiale krul aan de punt die gevolgd wordt door necrose van het gehele blad, waarna het blad verder opkrult en afvalt (oudere bladeren).
Bij een tekort krijg je een doffere, ongezonder ogende plant, met een ernstig verminderde bloei!
Oorzaken van kaliumtekort
Te weinig of de verkeerde meststof
Kweken in kalium gefixeerde grond
Te veel "keukenzout" (natrium) in het worelmilieu
Ga naar je grow shop voor professioneel advies. Zij zijn gespecialiseerd in deze manier van kweken en hebben de juiste producten om je problemen op te lossen.
Een goed samengestelde meststof bevat voldoende kalium.
Wat Kun Je Doen Bij Een Kaliumtekort?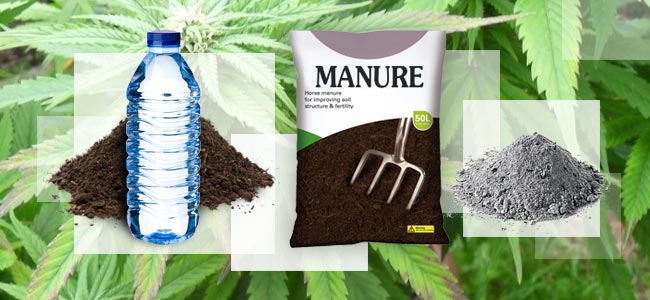 Wanneer de EC in het substraat of in de grond hoog is, zou je het met zuiver water moeten spoelen.
Je kunt zelf kalium toevoegen, anorganische kalium is dan het makkelijkst. Dit doe je door 5-10 gram kaliumnitraat op te lossen in 10 liter water. Bij zure grond kun je een beetje extra natriumbicarbonaat of kaliloog toevoegen (5 ml in 10 liter water).
Je kunt met een wateroplossing van houtas of mest ook kalium uit een natuurlijke bron toevoegen (let er wel op dat je de plant niet verbrandt door de oplossing te sterk te maken). Extracten van mestachtige substanties bevatten ook veel kalium.
Als je al te enthousiast bent met het toedienen van kalium, kun je zoutschade, calcium- en magnesiumtekort, en een verzuring van het wortelmilieu veroorzaken!